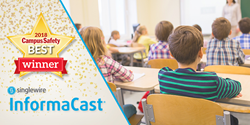 "We consider speed and reach to be the two most important factors for mass notification," said Pat Scheckel, executive vice president of product management and marketing for Singlewire Software. "This award recognizes the effectiveness of InformaCast Fusion in keeping people safe and informed."
MADISON, Wis. (PRWEB) October 22, 2018
Singlewire Software, a leading emergency mass notification service provider, has received a Campus Safety BEST Award from Campus Safety Magazine. The program recognizes superlative security, law enforcement, emergency management and safety solutions for K-12 institutions, universities and healthcare organizations. Singlewire was recognized for its InformaCast Fusion solution in the Emergency Notification/Mass Notification Systems category. Entries were judged on aspects such as innovation, functionality, and benefits to the installer.
"Campus Safety Magazine takes pride in focusing on content that helps protection professionals in the healthcare and education markets keep their students, teachers, patients, visitors, and campuses safe and secure," says Robin Hattersley Gray, executive editor of Campus Safety.
InformaCast Fusion is a mass notification system that reaches people via on-premises and mobile devices with critical messages from a single cloud-based interface. It is used in K12, higher education, healthcare, manufacturing, business, retail and government facilities to spread safety information as quickly as possible, through as many devices as possible.
"We consider speed and reach to be the two most important factors for mass notification," said Pat Scheckel, executive vice president of product management and marketing for Singlewire Software. "This award recognizes the effectiveness of InformaCast Fusion in keeping people safe and informed."
InformaCast Fusion is used on campuses across a variety of industries around the world for mass notification. Learn more at http://www.singlewire.com/informacast.
About Singlewire Software
Singlewire Software, based in Madison, Wis., is the developer of InformaCast, a leading software solution for fast and reliable emergency notifications. More than 7,000 organizations in over 50 countries use InformaCast for emergency mass notifications. Whether it's an active shooter, severe weather, or another crisis situation, InformaCast helps reach the right people, with the right information, to increase awareness, safety, and security. To learn more, visit http://www.singlewire.com/informacast.
About Campus Safety
Campus Safety magazine and CampusSafetyMagazine.com exclusively serve campus police chiefs, security directors, IT personnel, emergency managers and executive administrators involved in the public safety and security of major hospitals, schools, and universities in the United States. Campus Safety is a brand of Emerald Expositions.