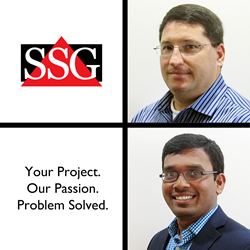 We are extremely fortunate to have such a talented data scientist join our group.
Dallas, Texas (PRWEB) December 02, 2014
SSG, the go-to partner for Oracle BRM and Informatica Data Management, today announces the addition of Dale Wicks as senior data quality consultant and Hari Kalla as principal consultant for the company's data management practice.
In his new role as senior data quality consultant, Wicks will be responsible for implementing Informatica Data Quality solutions for SSG's clients. He comes to SSG with over 20 years of IT consulting experience and over 13 years of Data Quality experience. Wicks possesses a long list of satisfied clients in a variety of vertical markets including the automotive, insurance, manufacturing, pharmaceutical, retail, and banking and finance industries. He holds a bachelor's degree in management information systems from the University of Georgia.
"SSG is proud to announce the hiring of Dale Wicks," Jim Young, SSG's data quality practice lead said. "Dale has built an industry reputation for his ability to independently analyze and solve complex problems involving data quality issues, system response time and business rules conflicts. This will prove to be a valuable asset within SSG's data management practice."
As principal consultant in the data management practice, Kalla will provide leadership and in-depth technological expertise to the data management consulting team. He will also drive implementation strategy around Informatica Platform-focused solutions for SSG's clients. Kalla is an accomplished IT consultant with extensive implementation experience around application integration, customer relationship management and supply chain management. He holds a bachelor's degree in electrical engineering from Andhra University and a master's degree in electrical engineering from the Indian Institute of Technology Kanpur.
"We are thrilled to have Hari add his superlative skills and expertise to our rapidly expanding team of data management professionals," Paul Scott, SSG's director of professional services for data management, said. "As a recognized industry leader, Hari has successfully delivered high-impact solutions in the areas of Enterprise Application Integration, Sales Cloud, Service Cloud and ERP systems. He also brings significant B2B solution design and development expertise. We are extremely fortunate to have such a talented data scientist join our group."
For more information about SSG's services, please visit http://www.ssglimited.com.
About SSG
Founded in 1997, SSG, Ltd. is a Dallas-based Oracle Gold Business Partner and Informatica Channel and Consulting Partner specializing in Billing and Revenue Management (Oracle BRM) and Data Management (Informatica Platform and Oracle DW/BI). As a premier software professional services firm, SSG specializes in building trust-based relationships and solving complex problems in business-critical applications for our clients. The ideal SSG client has made significant investments in technology and values a partner they can depend on to bring a depth of experience and solve their technology challenges the first time. SSG prides itself on providing the highest quality service to its clients with an unrivaled level of professional integrity, and is also proud to have been named one of the Dallas Business Journal "Best Places to Work" for three consecutive years.