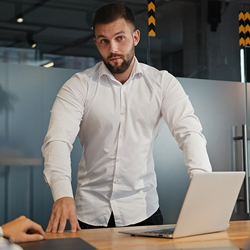 Designing and implementing a comprehensive governance strategy requires careful planning and the right tools. Information governance consulting services streamline the process.
HOBOKEN, N.J. (PRWEB) May 18, 2023
Messaging Architects, an eMazzanti Technologies Company and information governance expert, explains available information governance consulting services in a new article. The informative article first identifies the four components of a successful information governance strategy.
He then asserts that effective data management begins with gaining visibility into data across the organization, then classifying that data. He adds that proactive compliance monitoring alerts data stewards to potential compliance risks. After discussing data access and security, he relates how organizations can benefit from a unique approach that centralizes eDiscovery and allows organizations to leave their data safely in place for most requests.
"Designing and implementing a comprehensive governance strategy requires careful planning and the right tools," stated Greg Smith, Vice President of Services Delivery at Messaging Architects. "Information governance consulting services streamline the process."
Below are a few excerpts from the article, "Information Governance Consulting Services Streamline Governance Strategy."
Data and Records Management
"A comprehensive data audit provides visibility into data both on premises and in the cloud. This includes where the data lives, who owns it and whether it contains sensitive or forbidden content. The audit also looks at existing information policies and identifies redundant, obsolete, or trivial data (ROT)."
Regulatory Compliance Monitoring
"Effective records management, including data classification and policy-driven archiving, constitutes a critical first step in achieving regulatory compliance. Additionally, organizations must ensure appropriate access rights and permissions and implement necessary security measures."
Data Access and Security
"Data access and security form an integral part of information governance and regulatory compliance. Organizations must ensure that the right people have access to the right information at the right time. And they need to keep that data safe from cyber dangers that could compromise the organization."
eDiscovery
"Litigation, FOIA requests and internal audits can prove daunting without comprehensive information governance and effective eDiscovery tools. And failure to respond to such requests in a timely manner can result in fines, reputational harm and less than desirable legal outcomes."
Information Governance Consulting Services
Successful information governance begins with a single step and builds one piece at a time. With information governance consulting services from Messaging Architects, a company gains access to decades of experience and cutting-edge tools. Fully managed solutions streamline records management and data security, simplify regulatory compliance, and remove the pain from eDiscovery.
Have you read?
5 Reasons to Implement Information Governance You May Have Missed
What is Information Governance? Managing Data to Drive Compliance, Strategy and Productivity
About Messaging Architects
Messaging Architects specializes in effectively managing and securing an organization's most precious asset, its information. With over 20 years of information management and technology consulting experience, the Messaging Architects team has provided corporations, educational intuitions, health care facilities and nonprofits with methodologies, procedures, and technology to keep their data organized, compliant and secure.
About eMazzanti Technologies
eMazzanti's team of trained, certified IT experts rapidly deliver increased revenue growth, data security and productivity for clients ranging from law firms to high-end global retailers, expertly providing advanced business cyber security, retail and payment technology, digital marketing services, cloud and mobile solutions, multi-site implementations, 24×7 outsourced network management, remote monitoring, and support.
eMazzanti's consistent growth landed them on the Inc. 5000 list 9X. Recognized as a 4X Microsoft Partner of the Year, the #1 ranked NYC area MSP, NJ Business of the Year, and 5X WatchGuard Partner of the Year, the company excels as a trusted outsourced IT partner! Contact: 1-866-362-9926, info@emazzanti.net or http://www.emazzanti.net Twitter: @emazzanti Facebook: Facebook.com/emazzantitechnologies.