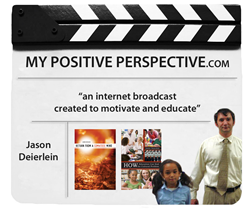 We wanted visiting mypositiveperspective.com a more pleasurable experience.
Charleston, SC (PRWEB) June 03, 2014
On June 2, 2014, My Positive Perspective broadcast an episode discussing the revamped company's website. My Positive Perspective founder Jason Deierlein was joined by website programmer Mocha Johnson to discuss some of the changes that exist on the improved website. At the beginning of the episode, Deierlein says, "I'm very excited to see the changes made to the website; can you tell the audience about some of these changes?" Johnson replies, "Absolutely, we wanted to build this site on a content management basis. This site is about the content on it, so we wanted to make this easy for a visitor to tell. It is now easier to add videos, blogs, and future guests' information."
Deierlein then says, "Another thing I know we have wanted to do was make it apparent what companies and organizations were supporting My Positive Perspective, how was this done?" Johnson replies, "We have added side bars and spaces in between the content of the web site to allow for sponsors and also for organizations that My Positive Perspective supports. Some new, brighter color has been added to give the new site more of a positive feel."
Deierlein adds, "It seems to me that it now is easier for someone who would like to be a guest either on my radio show or on the internet show, to make their wishes known because it's easier to navigate." Johnson replies, "Absolutely, that was another one of the goals of the site, to make this process easier and to have bold lettering at the very top of the web site."
My Positive Perspective is a media outlet believing that improvement in our community will be best achieved by focusing on the good things happening in our world today. Having survived a near fatal car accident as a youth, a shift of perception forced one to have a mentality of always concentrating on the brighter sides of things. This was true, and in my book, Return From a Comatose Mind, this belief was put to the test. Appreciation for life was the biggest thing one took away from my brush with death, and it is because of that gives me such a huge desire to be helpful to many. My Positive Perspective is a way of overcoming challenges through positive thinking.