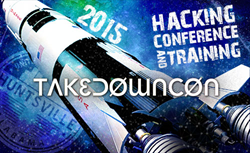 Winn's presentation on "Analogue Network Security" could not come at a more critical time as the need for increased protection of government networks, critical infrastructure and private sector enterprises is at an all time high.
Huntsville, AL (PRWEB) March 17, 2015
Winn Schwartau is scheduled to present at TakeDownCon Rocket City to be held from July 20-21, 2015 in Huntsville, AL. His keynote presentation will commence on July 20th. TakeDownCon will draw a wide range of information security professionals with different job functions in different industries. EC-Council Foundation's conference is the perfect platform for thought-leaders such as Mr. Schwartau to present cutting-edge information on the latest trends and issues plaguing the cyber community.
Mr. Schwartau is famous for his thought-provoking and controversial presentations, which have a way of getting his audiences to think outside the box. His presentations have become standard fare and dogma in the cyberwar and cybersecurity communities.
"This talk is about applying analogue thinking to network security." Mr. Schwartau said. He continued, "It is a different way of approaching our defenses, understanding the attacks, and hopefully will inspire others. I will glue together ideas into one massively redesigned architecture to be used as a basis for network application and all things security."
Winn's presentation on "Analogue Network Security" could not come at a more critical time as the need for increased protection of government networks, critical infrastructure, and private sector enterprises is at an all time high. According to Mr. Schwartau, "With my usual animated and dynamic style, I will assemble some fascinating concepts and approaches to security that have evolved over the last 20 years."
To find out more information about Winn Schwartau's presentation at TakeDownCon Rocket City or to attend the conference, please visit: http://takedowncon.com/2015/rocketcity/
About TakeDownCon:
TakeDownCon is a highly technical forum that focuses on the latest vulnerabilities, the most potent exploits, and the current security threats. World-class industry insiders come to share their knowledge, giving delegates the opportunity to learn about the industry's most important issues. With two days and two dynamic tracks, delegates will spend Day 1 on the Attack, learning how even the most protected systems can be breached. Day 2 is dedicated to Defense, and delegates will learn if their defense mechanisms are on par to thwart nefarious and persistent attacks. TakeDownCon provides the most sought after technical training and certification classes offered through Hacker Halted Academy by top training companies and led by well-respected instructors
About EC-Council Foundation:
EC-Council Foundation is a charitable and educational organization dedicated to educating and training individuals in cyber security. Established in 2012 by EC-Council, the foundation seeks to raise awareness, build capacity across nations and ultimately unify global cyber defense. EC-Council Foundation is the creator and organizer of Global CyberLympics, Hacker Halted, TakeDownCon, The Global CISO Form and Live.Learn.Secure. an education and training program. For more information regarding EC-Council Foundation or any of it's programs visit http://www.eccouncilfoundation.org