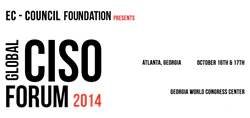 We really wanted to get the executives at our conference to see some technical innovation in the real world
Atlanta, GA (PRWEB) July 07, 2014
EC-Council Foundation's Global CISO Forums have a reputation for being some of the best, most informative information security conferences on the ever-growing list of events for high-level infosec professionals. This year, in order to expose attendees to the latest in security innovation, there will be an offsite field trip to Georgia Tech Research Institute (GTRI)'s state-of-the art Secure Operations Center. The Global CISO Forum takes place in Atlanta, GA, October 16-17, 2014.
The Georgia Tech Research Institute, a sponsor of the Global CISO Forum, is a highly regarded applied research and development organization. GTRI's science and engineering expertise is used to solve some of the toughest problems facing government and industry across the nation and around the globe. The trip to the SOC will round out an agenda already jam-packed with presentations from the best in the industry, panel discussions, and networking events.
Says Bo Rotoloni, Director of the Cyber Technology and Information Security Laboratory (CTISL) where the SOC is housed, "Although much hype exists about the threat of cyber attacks, many organizations still fail to understand the costs of data exfiltration, network disruptions, and other nefarious actions that may result from a cyber attack. Perimeter protection, although necessary, is not enough."
For the fourth consecutive year, EC-Council Foundation is bringing together the best information security executives from around the world to discuss the challenges and best practices in the infosec industry. The theme of the conference this year is Striking a Balance - Innovation versus Strong Fundamentals.
Notes Eric Lopez, EC-Council Foundation Senior Director of Conferences and Events, "With innovation being a big part of our theme this year, we thought it was a great time to add something a little different to our agenda. We really wanted to get the executives at our conference to see some technical innovation in the real world."
GTRI provides a link between cutting-edge academic research and real-world applications. Global CISO Forum attendees will have the opportunity to see the SOC in action, and learn about other innovative techniques and technologies that would improve their own organizations' security.
Previous Global CISO Forum events have drawn attendees and speakers from around the world, including Hong Kong, Egypt, the Netherlands, Bangladesh, Canada, the Philippines, Ghana, Sri Lanka, China, Zambia, Nigeria, the UAE, Switzerland, Mexico, the United Kingdom, Iceland, and all across the United States. All Global CISO Forum events are by invitation only. Anyone interested in attending should contact Amber.Williams(at)eccouncil(dot)org.
About the EC-Council CISO Program:
EC-Council's CISO Program has three components: CISO Events, the Certified CISO (C|CISO), and CISO Resources – a repository for white papers and articles geared toward a CISO crowd. EC-Council's CISO Events are invitation only and geared specifically for high-level, executive information security professionals. Combining keynotes with panel discussions, the events are opportunities for CISOs from around the world to hash out the trends and challenges of information security among their peers. The C|CISO is a certification recognizing an individual's cumulative experience and expertise in executive information security management. Overseen by a board of seasoned and distinguished professionals, the C|CISO Program has certified over 700 IS executives from around the world. For more information about EC-Council's CISO Program, please visit ciso.eccouncil.org.
About EC-Council Foundation
EC-Council Foundation is a charitable and educational organization dedicated to educating and training individuals in security skills. Established in 2012 by EC-Council, the foundation seeks to raise awareness, build capacity across nations and ultimately promote global peace. EC-Council Foundation's mission is to foster collaboration and participation by global digital citizens to become advocates for safe, secure online activities and to foster online child protection through education. For more information, visit foundation.eccouncil.org.