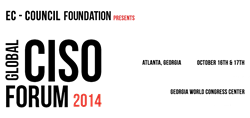 This year's finalists ... span many industries and specialties, but they all represent the best in their field.
Atlanta, GA (PRWEB) August 20, 2014
The finalists named by EC-Council Foundation for the Certified CISO (CCISO), CISO, and CIO of the Year span many industries and specialties, but they all represent the best in their field. EC-Council Foundation is proud to support their mission of raising awareness of cyber safety issues for the global community while unifying global cyber defense by recognizing those individuals at the forefront of information security innovation and best practices. EC-Council Foundation is proud to announce the following professionals as finalists for the three CISO Awards categories.
First, the CISO of the Year Finalists include Mark Leary, Vice President & Chief Information Security Officer at Xerox; Ahmed Qurram Baig, Head - Information Security & Compliance at Dubai World Trade Center; Mark Gelhardt, Sr., CISO at TravelClick; Illyas Kooliyankal, CISO at ADS HOLDING & ADS SECURITIES LLC.; Fal Ghancha, CISO at Welspun Group; Kashif Latif, Global Security Officer, GRC Officer, and Domestic Risk Officer at Fidelity Investments; and Michael Molinaro, CISO and VP of Enterprise IT, Security, & Risk at Bright House Networks. Nominations for these accomplished professionals highlighted their leadership and innovation as they worked to secure their organizations' amid a constantly changing landscape of threats.
The next category of finalists is the Certified CISO (CCISO) of the Year. Finalists include Rakesh Radhakrishnan, Principle (chief) Sec Architect at AMGEN; Paul Horn, Senior Information Technology Manager at DynCorp International LLC; Paul Medici, Director at Fidelity Investments; Veda Woods, CISO/Deputy CIO at Recovery Accountability and Transparency Board; Wasantha Perera, Head of Information Security and Compliance at Colombo Stock Exchange; Edouard Koulou Say, Managing Director at IVOPREST; Abdelmajed Ahmed Saeed, System Infrastructure and Operations Head at DALGroup; and Mike Loginov, CISO and Chief Cyber Security Strategist at Hewlett Packard Enterprise Security. These high level professionals all carry the EC-Council designation of Certified CISO and were partly chosen for their contribution to the CCISO community, as well as to the information security professional at large.
For the final category, CIO of the Year, only one nomination was found to be worthy. EC-Council recognizes that strong CISO leadership often isn't enough in the constant fight to secure complex infrastructures but is a team effort demanding buy-in at all levels. Vanessa Lapins, CIO of Novitex Enterprise Solutions is the sole finalist and therefore the de facto winner of the CIO of the Year award this year.
The Global CISO Forum, besides formally recognizing the awards finalists and crowning the winners of each category, will feature two days of keynote addresses, including one by Google Hacking legend Johnny Long, panel discussions, and a field trip to the Georgia Tech Research Institute for a tour of their state of the art secure operations center. Anyone interested in receiving an invitation to this event should send a resume to amber.williams(at)eccouncil(dot)org.
About the EC-Council CISO Program:
EC-Council's CISO Program has three components: CISO Events, the Certified CISO (C|CISO), and CISO Resources – a repository for white papers and articles geared toward a CISO crowd. EC-Council's CISO Events are invitation only and geared specifically for high-level, executive information security professionals. Combining keynotes with panel discussions, the events are opportunities for CISOs from around the world to hash out the trends and challenges of information security among their peers. The C|CISO is a certification recognizing an individual's cumulative experience and expertise in executive information security management. Overseen by a board of seasoned and distinguished professionals, the C|CISO Program has certified over 1100IS executives from around the world. For more information about EC-Council's CISO Program, please visit ciso.eccouncil.org.
About EC-Council Foundation
EC-Council Foundation is a charitable and educational organization dedicated to educating and training individuals in security skills. Established in 2012 by EC-Council, the foundation seeks to raise awareness, build capacity across nations and ultimately promote global peace. EC-Council Foundation's mission is to foster collaboration and participation by global digital citizens to become advocates for safe, secure online activities and to foster online child protection through education. For more information, visit foundation.eccouncil.org.