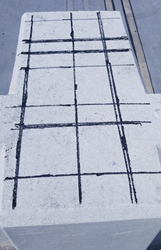 NORFOLK, Va. (PRWEB) October 18, 2019
This Summer, Infrasense returned to familiar territory in Virginia for a rebar locating and mapping project. An Infrasense field engineer surveyed columns in a parking garage to identify embedded rebar locations. The goal of the survey is to identify safe drilling areas for the installation of lighting fixtures. The survey was conducted using a ground penetrating radar (GPR) system to look inside the columns in a 2" orthogonal grid pattern, and the rebar that was found was drawn on the columns.
The ground penetrating radar survey was performed using a ground coupled 1.5 GHz antenna which can show the user subsurface features up to ~18" below the concrete surface under favorable conditions. The antenna was controlled via a GSSI SIR-4000 data acquisition unit.
About Infrasense, Inc.
Since 1987, Infrasense, Inc. has applied advanced technologies to address the most difficult challenges in subsurface scanning. Infrasense's engineers nondestructively extract critical information from a diverse range of structures. In addition to providing ongoing subsurface evaluation services to clients across the country, the firm has also conducted numerous research programs to advance the field of subsurface detection and nondestructive evaluation. To learn more about Infrasense and the services we provide, visit our website:
http://www.infrasense.com