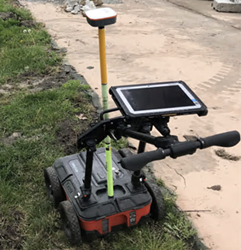 RICHMOND, Va. (PRWEB) April 26, 2022
Recent construction raised concern of potential voids and sinkholes behind a seawall in coastal Virginia. The concern resulted in Infrasense mobilizing to the site to conduct ground penetrating radar (GPR) testing and analysis to map out the extent of the subsurface defects. Using a 350HS antenna and synchronous GPS, the extent of seawall was surveyed in a single day with parallel traverses at a 2-ft interval.
Following the field surveys, the data is transferred to Infrasense's headquarters in Woburn, Massachusetts for quality assurance (QA) review, analysis, and reporting. Each GPR file was analyzed to identify potential locations of voiding/settlement within the survey area. Selected locations were then exported to a modeling software to delineate and quantify the specific extents of the void/settlement areas. Results are delivered in a comprehensive report with descriptions of the data collection procedures, equipment, analysis methods, and results obtained.
About Infrasense, Inc.
Since 1987, Infrasense, Inc. has applied advanced technologies to address the most difficult challenges in subsurface scanning. Infrasense engineers extract critical information using non-destructive methods from a diverse range of structures. In addition to providing ongoing subsurface evaluation services to clients across the country, the firm has also conducted numerous research programs to advance the field of subsurface detection and nondestructive evaluation. To learn more about Infrasense and the services we provide, visit our website:
http://www.infrasense.com