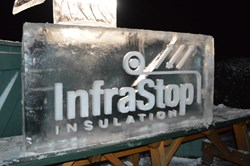 Indianapolis, IN (PRWEB) January 30, 2014
Insulation Stop, the exclusive distributor of InfraStop® Insulation, has supplied reflective insulation nationally for over twelve years. Focusing on new and innovative ways to use the company's material is a core belief within the organization.
"When we say our products are used everywhere, they really are. This project is just another example. When the hotels called looking for material to wrap their ice bars in their upcoming winter events we jumped at the chance to help," stated Nick Semon, owner of Insulation Stop.
"Providing our insulation to help preserve the ice bars was very important to us for several reasons. One, it is an awesome way to show the effectiveness of our products in a very non-traditional way that it is interesting for everybody. And secondly, we wanted to be involved because of who the customers are."
The Sagamore Hotel is a Victorian era resort hotel that first opened in 1883. It has been listed in the National Register of Historic Places since 1983. It's location in Bolton Landing, New York on Lake George is at the beginning of the Adirondack Mountains. The Samoset Resort in Rockport, Maine has an equally rich history spanning back to 1889 when the doors first opened as the Bay Point Resort on July 4th, Independence Day.
The Glacier Ice Bars consist of an eighteen foot long bar and lounge constructed from more than six tons of ice. The lounge includes seating nooks, a throne, a fireplace and penguin for photo backdrops.
"They are using our InfraStop®Insulation much the same way everyone else does. The only difference is in this cold climate application, they are not trying to keep heat in but keep heat out. This is the way our insulation is used in southern areas of the United States. The reflective material blocks overhead heat from transferring down into a building. The only difference for the ice bars is that we are much further north and the overhead sun and radiant heat is intentionally being blocked by InfraStop® in order to keep the ice sculptures and bars frozen."
For more information on radiant barriers and reflective foil insulation, please visit InsulationStop.com.
Nick Semon is owner of the Insulation Stop. Individual and bulk orders of U.S. made radiant barrier and reflective bubble foil insulation products for commercial and residential use. The company is committed to offering extensive knowledge on the use and application of its reflective insulation products.