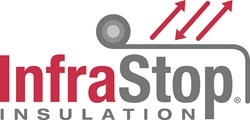 Indianapolis, Indiana (PRWEB) January 29, 2014
Insulation Stop has supplied radiant barrier and reflective foil insulation nationally for over twelve years and is the exclusive distributor of InfraStop® insulation. The importance of registering the InfraStop® trademark is a natural progression as the company continually seeks to offer the best and most innovative products to its consumers. The registered mark also affords the company additional protection from anyone potentially infringing on the use of the name.
"We are very proud of the InfraStop name and what it symbolizes," stated Nick Semon, owner of Insulation Stop. "We continually state that InfraStop® stands for quality. When we designate a product with the name InfraStop®, this means it has the highest quality product available for its kind. It also means that it is made in the United States. These two attributes are vitally important in choosing reflective insulation as product origin and quality can vary widely in our industry."
The InfraStop® name draws its roots from the first mass produced reflective, aluminum insulation in the United States from the Infra Insulation Company of the 1920's.
"You consistently see companies marketing reflective technology and their products as spinoffs from the NASA space program. Although this may be popular among the public, these claims are just not factual. Reflective insulation has been around much longer in this country, well before fiberglass insulation even. The first insulation products by the Infra insulation Company were designed to fit into a stud or joist bay. By manipulating the product before installation, layers of reflective aluminum were held open by cardboard pieces essentially allowing a reflective batt to be placed in the cavity. This assembly of trapped air and reflective surfaces had tremendous thermal ratings."
"When a customer chooses InfraStop®, we want them to know not only are they getting the best insulation available, fully tested and made in the United States, but are also purchasing from a company that understands the origins of reflective technology and how the technology is successfully used in today's wide range of applications."
For more information on radiant barrier and reflective foil insulation, please visit InsulationStop.com.
Nick Semon is owner of the Insulation Stop. They offer individual and bulk orders of U.S. made radiant barrier and reflective bubble foil insulation products for commercial and residential use. The company is committed to offering extensive knowledge on the use and application of its reflective insulation products.