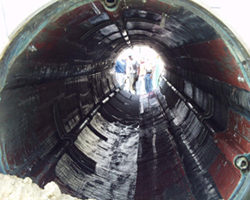 There will be an increasing need and demand…to address the numerous infrastructure problems facing the U.S. and world today.
Cleveland, Ohio (PRWEB) June 26, 2014
Garland Industries, Inc. recently launched a fiber reinforced polymers (FRP) construction division designed to provide high-performance structural strengthening solutions for a variety of target applications, including transportation structures, pipelines, buildings, waterfront structures, blast mitigation and structural connections. Infrastructure Strengthening Solutions (IS2), a division of Garland/DBS, Inc., is a structural strengthening and restoration division that designs and installs composite reinforcement solutions manufactured by V2 Composites, Inc., a subsidiary of Garland Industries.
A recent report conducted by the American Society of Civil Engineers (ASCE) indicates that it will take an estimated $1.6 trillion to upgrade the country's existing infrastructure. The same report also notes "the rapid rate at which our infrastructure is aging requires new solutions for providing a resilient infrastructure that can last for future generations."
IS2 provides strengthening solutions for everything from beams and columns to pipes, tanks and silos. Its high-strength composite solutions are custom-designed to provide reinforcement for almost any situation, including change of use, construction/design deficiencies, deteriorated elements (corrosion repair), impact damage, improvement of seismic performance, and blast mitigation among other situations requiring tension strengthening.
"As the FRP industry continues to grow in the United States, there will be an increasing need and demand for a reliable and efficient construction material manufacturing and design firm to address the numerous infrastructure problems facing the U.S. and world today," explained Joe Rosemont, who has been selected to lead the newly created IS2 division.
Rosemont is a leader in the FRP industry with more than 20 years of experience overseeing all phases of retrofit and repair construction, including infrastructure and environmental projects for government and private sector clients. Along with working on several patents in the FRP industry, Rosemont is involved in various trade organizations, including the American Society for Testing and Materials (ASTM), International Concrete Repair Institute (ICRI) and American Concrete Institute (ACI) among others.