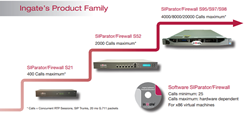 Ingate is happy to add the configuration and management REST API with Ansible support for carriers offering large-scale SIP trunking.
STOCKHOLM (PRWEB) March 26, 2019
Ingate® Systems has added new call control as well as service orchestration and product management features to the award-winning line of Ingate SIParator® Session Border Controllers (SBCs) with software version 6.2.1.
The SIParator software version 6.2.1 adds a REST HTTP API to provide a way to configure, provision, and perform other management tasks triggered from external applications.
The API can be accessed through Ansible. Ingate has written a suite of Ansible modules for users to configure and maintain the Ingate SBC via Ansible Playbooks. Ingate also provides the cli2python utility, which can be used to generate an Ansible Playbook from an Ingate CLI file.
The configuration and management REST API can also be accessed through cURL (Client URL) and Ingate Python SDKs.
Call Control at the Dial Plan Level
Another addition to the 6.2.1 software is the Call Control API, which allows the Ingate to fetch information via REST API calls (http or https GET commands) while processing the dial plan, and to use the returned information to modify the SIP requests being processed, for example by setting the request URI according to the data received from an http server. This allows users to add enhanced routing capabilities to applications such as:

Routing based on number portability
Least-cost routing
No call compliance
Call capacity per DNIS for inbound campaigns in call centers
"Ingate is happy to add the configuration and management REST API with Ansible support for carriers offering large-scale SIP trunking, often using the Software SIParator on virtual machines. We expect interest to increase as many TDM-connected mission-critical PBX installations need to be moved to IP SIP trunking, as the copper network is being closed. The other addition, the Call Control REST API, has been requested by contact center system integrators and has been found very useful," said Ingate's Steven Johnson.
SIP-Related Features
New firewall and SIP-related features in Ingate 6.2.1 include free-of-charge media transcoding between codecs PCMA, PCMU, G722, and G729. Several other enhancements include better storage performance and capacity, updated CPU microcode, and more VPN/IPSEC flexibility.
The new software version is available for download now from ingate.com.
About Ingate® Systems
Ingate® Systems develops firewall technology to enable global SIP- and WebRTC-based person-to-person communication to provide the best access for telephony, global real-time and unified person-to-person communication for everyone. With a history in security, Ingate offers enterprises, service providers and carriers elegant solutions for SIP trunking and trusted real-time communications beyond the LAN. Ingate products are used by retail companies, medical facilities, financial institutions, call centers, industrial firms, government agencies and small-to-large enterprises throughout the world. For more information visit ingate.com.