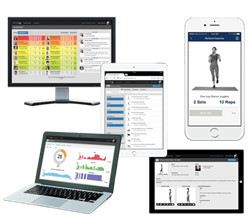 We are now able to determine the patients who are at risk of falling behind in their rehab and offer encouragement or adjust their home exercise program before they see us again in the office. – Michael Woodward, MPT, Blue Ridge Physical Therapy
Overland Park, KS (PRWEB) May 17, 2016
In Hand Health, LLC, announced today the availability of its telehealth solution for physical therapy.
Physical therapists (PTs) use In Hand Health products to strengthen relationships with patients and keep rehabilitation plans progressing in between office visits through video-based home exercise programs, monitoring of exercise compliance, and analysis of feedback on pain and recovery levels.
Patients follow the video exercises, track their progress with real-time stats, and securely communicate with their PTs through the convenience of their smartphones or tablets while at home. Physical therapy clinics offer the In Hand Health telehealth solution on a subscription basis to patients, enabling practices to establish long-term patient relationships and generate additional revenue.
"We know as physical therapists the key to improving patients' conditions is to have them exercise as directed, including the correct movements and durations, in between office sessions," said Michael Woodward, MPT, owner of Blue Ridge Physical Therapy (Independence, MO), and In Hand Health Clinic Operations Specialist. "The In Hand Health solution gives my clinic's PTs unique insight into our patients' exercise habits outside of our office. We are now able to determine the patients who are at risk of falling behind in their rehab and offer encouragement or adjust their home exercise program before they see us again in the office."
The In Hand Health solution includes two separate but highly integrated software products.
Physical Therapy In Hand (tm), a Web-based application, enables PTs to build custom home exercise programs from In Hand Health's library of video-based exercises or their own uploaded videos. PTs monitor patient exercise compliance and feedback through an intuitive color-coded dashboard and individual patient records, and they can also communicate with patients through the application using HIPAA compliant messaging.
The In Hand Health Patient App (tm), a native app for iOS or Android smartphones or tablets, provides patients with a convenient method to follow video exercises, record their activity, and submit feedback and messages securely and directly to their PT.
"We created the In Hand Health solution to address many inefficiencies we've heard from PTs as well as those I recently experienced personally as a physical therapy patient," said Michael J. Gassman, President and CEO of In Hand Health. "With the high level of integration between the application and the app, we are allowing the PT to effectively extend their expertise outside clinic walls while providing clear instructions and peace of mind for the patient during their home rehab."
The In Hand Health solution measures compliance with exercise programs, pain levels, and recovery reports during a patient's episode of care and presents the information in a composite CaRe Index (tm) score.
Patients and PTs have access to the score in real time through the application and app, providing both parties with a gauge on how the rehabilitation is progressing. High scores generally indicate higher compliance and lower pain while lower scores typically reflect lower exercise compliance and higher pain levels.
The In Hand Health telehealth solution is free for physical therapy clinics, who then market the telehealth service (or Continuing Care (tm) to patients on a monthly or annual subscription basis. In Hand Health manages the entire billing and payment process through the In Hand Health Patient App, leaving subscription revenues with the clinic less small service fees.
"Changes in the healthcare landscape have resulted in lower reimbursements for physical therapists, and clinics are also losing revenues from patients who cannot complete their plans of care because of rising insurance copays and deductibles," said Michael Novosel, VP Sales of In Hand Health. "The In Hand Health solution provides a unique approach for both sides in this situation. A patient who might otherwise not complete physical therapy can use our service at a fraction of the cost of most copays while it also provides clinics a connection and revenues from a patient who they might otherwise never see."
The In Hand Health telehealth solution is available to PTs and physical therapy practices now. PTs and clinics can create their free Physical Therapy in Hand accounts at http://www.inhandhealth.com by completing a simple wizard. The In Hand Health Patient App is available as a free download in the Apple App Store and on Google Play. Patients are able to use the service for 15 days before having to pay the subscription price established by their physical therapy clinic.
# # #
In Hand Health, Physical Therapy In Hand, Continuing Care, and Care Index are trademarks of In Hand Health, LLC.