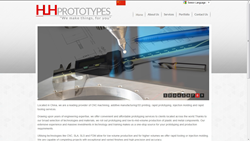 It doesn't do a company any good to build projects but not have a quality follow-up process in place
(PRWEB) March 12, 2015
HLH Prototypes has never let their humble beginnings stop them from dreaming big and earning the status as one of the best in China. Now, this company has developed a client list that spans international waters due to their quality injection molding and precision machining services. Every part and tool is built according to design and inspected for precision and accuracy.
One of the defining characteristics of this particular process is the rapid turnaround delivery time no matter how large or small the project quantity is. HLH understands the companies need to be able to order a part at the last minute and then have that delivered quickly and correctly.
The ability to have several methods to choose from and to have teams understand what will work is what allows them to quote the lowest price for clients on every project. "We never believe in limiting what we can do or in charging the customer more than what we should," and the general manager attributes this way of thinking to a good portion of the company's success.
From aluminum injection molding to reaction injection molding which is one of the best techniques for low volume projects, this company has the manpower and quality equipment to take care of all the details in a timely and efficient manner. On top of the excellent manufacturing qualities, the inspection department is also a key piece of the process.
"It doesn't do a company any good to build projects but not have a quality follow-up process in place," believes the operations manager. This is why every batch that is created is thoroughly inspected and compared to the customer's design before it is shipped out of the facility. Customers have shown their appreciation in this attention to detail by rating HLH as one of the best companies and have come back for repeated business.
The HLH website clearly displays the different available techniques so that potential customers can check them out before speaking to a customer representative. Counted among the leading injection molding companies in China, HLH has proven over and over again that they can be trusted with projects of varying shapes and sizes and that every part or tool will be on the mark and ready for use.
About The Company:
As a China injection molding company, HLH Prototypes is internationally known for its dedication to the development of quality prototypes at an affordable cost for businesses all across the world. This company began operations in 2001 and has since expanded to a second facility in China to handle the growing number of project orders. For precision machining services in China, they have built a solid reputation for themselves.
Contact Information:
Office: 1801 Xing Ji Building, Xin Sha Road, Shajing, Baoan, Shenzhen, China, 518125
Factory: 2nd floor, Building 6, Hua Fa Industrial Park, Fu Yuan 1st Road, Fuyong, Baoan, Shenzhen, China
Tel: +86-755-82569129 (ext 817 for English)
Fax: +86-755-82569136
info(at)hlhprototypes(dot)com Fax No (0)1753684199, Accounts (0)1753689910. Ext-103