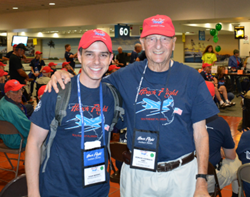 "I'm so overwhelmed," said Boynton Beach resident Howard Stein. "I never expected anything like this."
Palm Beach Gardens, FL (PRWEB) June 11, 2014
A team of well-trained volunteers and guardians personally accompanied group members to the National Marine Corps Memorial, depicting the iconic raising of the American flag over Iwo Jima; Arlington National Cemetery, where they witnessed the changing of the guard; and the World War II Memorial, which, for many trip participants, was a first-time opportunity to see the monument constructed in honor of the men and women who served in and died during the conflict. More than 16 million wore a uniform; more than 40,000 lost their lives.
The weekend was an emotional one for participants, who experienced highs and lows.
As 89-year-old Jim Doran of Palm Beach Gardens said, "You can't imagine how I feel…this was the trip of a lifetime. I feel such a sense of pride."
"I still see all of those guys. I was very sad," said Peter Casa, a Navy veteran who lives in Boynton Beach, who was on a ship that was hit by a Japanese kamikaze plane in 1942 that killed 390 of his crew mates.
The veterans returned to a "heroes' welcome" at Palm Beach International Airport, where they were greeted by a crowd of supporters waving American flags. Signs declaring "Welcome Back, and The veterans returned to a "heroes' welcome" at Palm Beach International Airport, where they were greeted by a crowd of supporters waving American flags. Signs declaring "Welcome Back, and "We Love You." The red-, white- and blue-wearing group serenaded the returning former servicemen with a rendition of "God Bless America".
"I'm so overwhelmed," said Boynton Beach resident Howard Stein. "I never expected anything like this."
Southeast Florida Honor Flight is dedicated to honoring veterans, flying them to our nation's capital at no out-of-pocket cost. The 100 percent volunteer organization, formed in 2008, transports veterans from Indian River, St. Lucie, Martin, Okeechobee and Palm Beach counties to our nation's capital, paying for their bus transportation, meals, t-shirts and other travel-related expenses. Top priority is given to America's most senior heroes -- World War II veterans, primarily -- and those veterans who are terminally ill.
This was the second year that Honor Flight of Southeast Florida traveled to our nation's capital on the Memorial Day weekend, and they plan to continue the newfound tradition. "We did it as an experiment last year and (found) there is an extra layer of patriotism in the air," said HFSF Chairman Todd Tucker.
"What an incredible effort put forth by this worthy organization," added Stone, an accredited non-attorney claims representative/agent for veterans' benefits from the Department of Veterans Administration and Social Security Administration. "They exist to ensure that as many veterans are able to visit the memorial, without cost."
A member of the National Organization of Veterans Advocates (NOVA), the American Bar Association and Florida Justice Association, Werner received his undergraduate degree from the University of Florida and his law degree from Nova Southeastern University.
Stone is a service-connected veteran, having spent eight years in the U.S. Navy, during which time he served as a hospital corpsman. Additionally, Stone was deployed as a combat medic with the U.S. Marine Corps. He is a nurse licensed in the state of West Virginia, a member of NOVA , the Marine Corp League and the American Legion. He handles new client intake, medical records review, case work-up, pre-hearings, hearings and more at Injured Veterans.
For more information on the Southeast Honor Flight and how you can share your support, visit the organization's web site at http://www.honorflightsefl.org.
Injured Veterans' lawyers, certified representatives and staff members fight to get the compensation our country's veterans have earned and deserve. It is a privilege to work without fee if no new or increased benefits are realized.