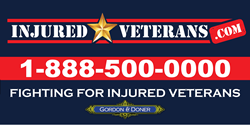 It is my life's work to make sure that our brave soldiers get the compensation that they've earned and deserve - Adam Werner
Palm Beach Gardens, Florida (PRWEB) February 18, 2015
Physical and psychiatric medical conditions related to military service include: exposure to Agent Orange, knee problems, loss of hearing, vision or limb(s), military sexual trauma, post-traumatic stress disorder (PTSD), spinal arthritis, spinal cord injury, substance abuse disorder and traumatic brain injury (TBI).
The firm and the new website are committed to helping these brave individuals navigate the complexities of applying for and appealing denial of veterans' benefits or disability rating.
The dedicated legal team at Gordon & Doner and the resources at InjuredVeterans.com, led by attorney Adam Werner, handle all federal veteran benefit matters. The group can assist with claims in all 50 U.S. states, particularly those who have been denied benefits. Veterans logging on to InjuredVeterans.com can search state-by-state for an overview of the benefits he or she may be eligible for in their state of residence, from disability benefits to survivor benefits, health care, home loans, life insurance, retirement benefits and pensions, and vocational rehabilitation and unemployment benefits.
"The men and women who sacrificed for our country served not for the recognition but to guard and protect the freedoms that we, as Americans, enjoy," said Werner. "It is my life's work to make sure that our brave soldiers get the compensation that they've earned and deserve."
The website allows visitors to meet the team through biographies and photos, and learn about the history of veterans benefits and the evolution of what is now the Department of Veterans Affairs (VA), the types of benefits available, and qualifying and applying for benefits. There is a section about Social Security Disability Insurance, including eligibility requirements and the criteria that need to be met.
The comprehensive site also features compensation charts that share recent rates for Veterans Compensation Benefits, Special Monthly Compensation (SMC), Dependency and Indemnity Compensation (DIC) and Parents DIC.
Additionally, a host of lifestyle articles can also be found, covering topics that relate to fitness, health and nutrition, careers, finances and relationships, as well as news that would be of particular interest to veterans.
InjuredVeterans.com provides visiting veterans with a free case evaluation form and toll-free phone number so that they can personally speak to a team member about their particular situation. Privacy is 100 percent guaranteed, and no information is shared.
Adam Werner, an experienced litigator, is a member of the National Organization of Veterans Advocates (NOVA), the American Bar Association and Florida Justice Association. He received his undergraduate degree from the University of Florida and his law degree from Nova Southeastern University. Prior to going into civil practice, Werner handled criminal prosecutions in the State Attorney's Office. He serves on the boards of the Safe Kids Coalition and the Young Lawyers Association of the Palm Beach County Justice Association. When not working, Werner enjoys spending time with his family, running and competing in triathlons.
Injured Veterans, a division of Gordon & Doner, is located at 4114 Northlake Boulevard in Palm Beach Gardens, Florida. The firm does not charge a fee unless new or increased benefits are realized. You can reach them at (888) 500-0000 or http://injuredveterans.com