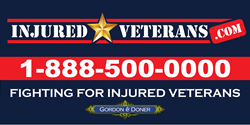 Paying attention to the client is what sets us apart from other law firms. Our focus is helping Injured Veterans.
Palm Beach Gardens, Florida (PRWEB) April 30, 2014
Injured Veterans assists veterans and their families in all federal veteran benefit matters. Practice areas include veterans' disability and Social Security disability for veterans who suffer psychiatric and physical medial conditions related to their military service, including hearing loss, post-traumatic stress disorder (PTSD), spine injury, military sexual trauma (MST), traumatic brain injury (TBI), knee problems, arthritis of the spine, toxic water exposure and agent orange conditions. Thousands of veterans at all levels of appeal have been represented.
Visitors to InjuredVeterans.com can meet the team, including lead attorney Adam Werner and Joshua Stone, an accredited non-attorney claims representative/agent for veterans benefits from the Department of Veterans Administration and Social Security Administration, and two paralegals; read informational and educational FAQs, as well as the latest veterans' news; and contact the office, located at 4114 Northlake Boulevard in Palm Beach Gardens, for a free case evaluation.
"Paying attention to the client is what sets us apart from other law firms," said Werner, who began his legal career as a criminal prosecutor for the State Attorney's Office.
A member of the National Organization of Veterans Advocates (NOVA), the American Bar Association and Florida Justice Association, Werner received his undergraduate degree from the University of Florida and his law degree from Nova Southeastern University.
Stone is a service-connected veteran, having spent eight years in the U.S. Navy, during which time he served as a hospital corpsman. Additionally, Stone was deployed as a combat medic with the U.S. Marine Corps. He is a nurse licensed in the state of West Virginia, a member of NOVA , the Marine Corp League and the American Legion. He handles new client intake, medical records review, case work-up, pre-hearings, hearings and more at Injured Veterans.
"Our job is to wade through all the paperwork and give clients the best chance to win their claim – sooner, rather than later," Stone said.
New Jersey native Jeanney Tamayo is the lead paralegal for the firm's Veterans' Disability Department. She is descended from a long line of military members.
"It's an honor to fight for those who fought for us," Tamayo said.
Zachary Roberts, also lead paralegal for the firm's Veterans' Disability Division, is a Marine Corps combat veteran from Buffalo, NY. He was a Parachute Rigger and Jumpmaster for eight years, and served as a team leader and his platoon's navigator in Operation Iraqi Freedom.
"The work that we're doing hits close to home with me," Roberts said. "I'm able to sleep at night knowing that I have a direct impact on helping individuals who really need us."
Kelly McCabe is the firms Social Security paralegal. It is her passion to help veterans and non-veterans alike obtain Social Security Disability (SSD) and Supplemental Social Security Income (SSI) benefits for those unable to work.
Injured Veterans' lawyers, certified representatives and staff members fight to get the compensation our country's veterans have earned and deserve. It is a privilege to work without fee if no new or increased benefits are realized.
For further information or assistance, call (888) 500-0000 or visit http://www.injuredveterans.com/