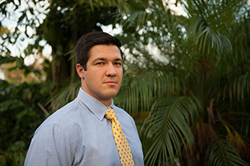 "Your legal rights and the protections that you are afforded are always changing. Protect yourself and your family by staying current with the law."
West Palm Beach, FL (PRWEB) October 22, 2014
The law is constantly evolving; this means that the legal rights and protections afforded are also always changing. While it is important to keep up with the latest bills and amendments passed by the Florida State Legislature, it is simply not always possible for people who work outside of the legal profession to do so. Unfortunately, ignorance of these legislative changes can leave individuals and families vulnerable to undue hardship. West Palm Beach personal injury lawyer, Daniel C. Tighe, has seen many such hardships first hand. Tighe is now seeking "to raise awareness of the law in order to help prevent the unnecessary suffering of further automobile accident victims."
According to Tighe, awareness begins by educating fellow Floridians of the recent critical change in Florida's Personal Injury Protection law (PIP). The Florida Legislature recently passed Senate Bill 0119, which has significantly impacted the requirements that automobile accident victims must meet in order to qualify for injury compensation under the law. "If you are severely injured in an automobile accident in the State of Florida, it is very critical that you are aware of the proper medical protocol to ensure that you are able to recover," explained Tighe from his South Florida law office, Palm Beach Injury Law.
As a personal injury attorney with four years of experience representing automobile accident victims in and around West Palm Beach, Tighe explained that, in order to understand what PIP covers and to comprehend the changes that affect health care providers and insured parties, a little background knowledge is necessary. "Florida's PIP is limited to a maximum payout of $10,000 and covers an insured's loss of wages and medical expenses. All drivers in Florida are required to carry PIP insurance, which is also referred to as 'no-fault' insurance because the benefits are paid out regardless of who is deemed at-fault in the automobile accident. An insured driver is able to exclude wage loss from their PIP benefits and has the option to include a deductible to lower premium costs."
Tighe went on to provide a general summary of the recent changes that impact a victim's ability to recover PIP benefits:
An injured party that is involved in a car wreck now must seek medical treatment within 14 days of the incident in order to use their PIP benefits.
An injured party should note all of their injuries during their first meeting with their health care professional. No matter how small the injury may be, if it is not disclosed to medical staff during this initial evaluation, that injury may not be covered at a later date under PIP benefits.
PIP coverage is no longer available for therapies such as massage and acupuncture.
For a person to be eligible to receive the maximum benefit they will need to have an "Emergency Medical Condition." In other words, a medical doctor will have to diagnose the injured party to have this condition or they will not be eligible for the entire $10,000 PIP benefit.
The insurance company also now has the ability to require the injured party to submit to an independent medical examination. Failure to comply with this request can lead to the rejection of a victim's PIP claim and benefits. If the injuries a party sustained are deemed unreasonable, the insurance company can look to mitigate their losses and end the PIP treatment.
Tighe added, "Remember, this is just a brief overview of some of the changes in the PIP law that has taken place in Florida. Awareness is key. If you are involved in an automobile accident and a serious injury results, it is important to seek professional and licensed medical attention for all injuries that you may have."
Tighe also highly recommended that automobile accident victims consult with an experienced personal injury lawyer. According to Tighe, "An attorney is an advocate that will fight for your rights and ensure that all of your medical bills are properly paid and that you are receiving the benefits of your full insurance plan that you have been paying for."