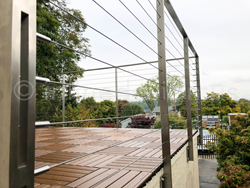 Simplicity and beauty
SEATTLE (PRWEB) January 09, 2019
Strength and beauty combine in this modern, easy-to-install railing for decks, mezzanines and more
Up to 80% reduced installation time with Press and Latch cable tensioners
No special tooling (i.e. crimping tool) required for installation
High-end, minimal aesthetic and maximum customization
Commercial use, marine grade 316 steel
Made of solid bar of size 1 3/4" x 5/8", significantly above commercial grade requirements
Versatility and durability combine at Inline Design, where their Arcadia line of cable or glass railing systems offer a clean, modern look that will stand the test of time. Cable railing systems for decks continue to grow in popularity, as they have an 'invisible' quality that won't obstruct beautiful views—of landscape or architecture. Cable and glass railing systems remove visual barriers, which makes them excellent for making interior spaces more expansive and open, and outdoor spaces blend more seamlessly into their natural surroundings. These railing systems offer the greatest customization and most minimalistic look, making them ideal for both high-end residences and commercial development. The Arcadia railing system is not modular, meaning it can be made-to-fit unique spaces and shapes, and each installation will produce one-of-a-kind results. While other railing systems stack together like Legos, Arcadia requires welding capabilities (for the top rail bar only), but can therefore accommodate any situation. The systems are available in floor and side mounted option.
When it comes to durability, Arcadia is the clear choice for weather-resistant and corrosion resistant railings. Inline Design offers all of its Arcadia products in marine grade 316 stainless steel (surgical grade), that is randomly third-party lab tested to meet stringent requirements for quality. With a focus on strength, they also offer Gauge 10 posts for their railing systems in round (5/8" diameter) and square (1 9/16" profile). This is the heaviest-duty railing available on the market. The Arcadia system has end posts of solid bars at 1 ¾" x 5/8". These two solid steel bars are separated by welded steel blocks at 1 ¾" x 1 1/8", for additional stability. The level of sturdiness and stability in a minimalistic and beautiful railing system is unrivaled, and Arcadia was specifically designed by Inline Design to supersede any existing commercial cabling system currently available on the market in these areas.
Installation of Arcadia cable and glass rail systems can be done by the enthusiastic DIY-er or contracted professionals on straight runs or as a stair railing. The patent-pending Arcadia railing systems offer extremely efficient floor and side mounted installation and require little more than the right set of wrenches. The unique Press and Latch cable tensioners system created by Inline Design requires no special tooling – reducing installation time by up to 80% compared to other cable railings. As the Arcadia system is not modular, the top rail bar is installed separately and must be welded, which requires a mid-level experienced welder for completion. Welding the top rail and the ability to cut cables to length means the Arcadia system offers the most versatility for rail angles and lengths.
The Arcadia railing system is available in a satin finish (similar to popular stainless-steel kitchen appliances) stainless steel marine grade 316 , making them a superior choice for both residential and commercial properties as they require no ongoing maintenance and are the most corrosive-resistant product available. The IRC code requires the top rail to be able to sustain a concentrated of 200 lbs. applied horizontally or vertically down at any point on the top rail. Some local codes specify a smaller load of 20 lbs. per linear foot.
Inline Design is a Seattle-based company and inventor of the Arcadia cable and glass railing systems. Each product listed on our website is proprietary, and ships from our warehouse in Seattle, Washington. We eliminate the middle man by controlling the entire process from product conception, prototyping, testing, patenting (Jad Honein owner & inventor), mass producing, marketing, sales, and providing after sales support. As constant innovators, we always seek to provide you with cutting-edge strength and design in our products.
CONTACT
Jad Honein, Inline Design
(425) 405-5505
ceo(at)inlinedesign(dot)us