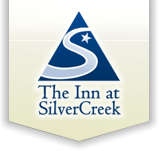 Granby, Colorado (PRWEB) May 27, 2014
The Inn at SilverCreek enables travelers to enjoy all of the wonders that Colorado has to offer with a plethora of opportunities to take adventures in the great outdoors at a moment's notice.
With traditional hotel rooms and condominium-styled lodging, full sized kitchens, fireplaces, an indoor/outdoor pool, two indoor and two outdoor hot tubs, fitness room, racquetball and tennis courts, guests can fully enjoy an experience like none other in one of the most peaceful and beautiful areas in Colorado.
The Inn at SilverCreek is proud to announce the recent renovations to the Athletic Club, including two brand new indoor hot tubs, locker room renovations, new outdoor deck and state of the art cardio equipment. As part of its continuing effort to provide the best vacation accommodations, the Inn at SilverCreek's renovations are sure to improve guests' stays throughout the year. With a heated pool, ideal for the winter months, guests can also relax by the water after a long day of enjoying the surrounding natural beauty.
As for other activities, guests can take in the sights around Grand Lake, ski at Winter Park and Granby Ranch, mountain bike through countless trails, enjoy horseback riding, play golf in any one of the four courses in the area, fish for the perfect catch in any lake or river, and even go four-wheeling on tours to destinations that few have explored.
Best of all, there is so much for a guest to enjoy within the convenience of the area. From enjoying the serenity of nature to relaxing in family (and pet) friendly lodging, guests will find the perfect home away from home. The Inn at SilverCreek is located 90 minutes from Denver International Airport.
The perfect host for business retreats, wedding venues, and other social gatherings, guests will find all needs met, while getting away from the hustle and bustle of big city life. Enjoy a peaceful stay in one of the most pristine areas in all of Colorado. The Inn at SilverCreek is just one of many properties managed by The Alderwood Group, and offers something that is sure to meet the travel wants and needs of nearly any vacationer.
The Alderwood Group is recognized as a leader in property management and specializes in developing and implementing proven solutions. For more information on The Inn at SilverCreek or other Alderwood Group's properties, visit http://corp.alderwoodgroup.com.
800-964-4233
info(at)alderwoodgroup(dot)com