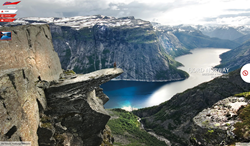 Norwich, Norfolk (PRWEB UK) 17 October 2014
InnerShed are tasked with designing and developing a state of the art website gateway to showcase the Fjord region of Norway and support the efforts of the Superyacht Norway team in attracting superyacht tourism. Utlising the open source "Famo.us" framework, allowed InnerShed to develop a groundbreaking web-app to really bring the Fjords to life and engage the visitor in a online experience that is tailored to desktop, iPad and iPhone browsing.
Today the worlds superyachts have the capabilities to go anywhere from the south of France to the Arctic circle - now the Fjords of Norway would like them to come visit. For many years only the more intrepid travellers amongst the superyacht fraternity have ventured North to see what Norway has to offer and this has often felt like a journey into the unknown in comparison with the popular cruising destinations of the Mediterranean and the Caribbean.
But this kingdom of fjords, steep mountains, waterfalls and glaciers is ideal for cruising
a superyacht with destinations boasting modern facilities and incredibly deep drafts. So, in order to make this unspoiled utopia an easier place to cruise, several highly respected business people have joined forces to create Superyacht Norway – a collective effort to represent superyacht-friendly destinations in Fjord Norway and to welcome owners, guests, captains and crew of the world's finest superyachts to the region.
Superyacht Norway covers a range of fjord destinations including Bergen, Rosendal, Loftus, Bekkjarvik, Aurland and Skjolden
The full interactive website is in development but an early tasting can be seen here - http://www.superyachtnorway.com
To learn more about this amazing development, contact the team behind it:-
Ross Clabburn
CEO
InnerShed Ltd
7 Oak Tree Business Park
Rackheath, Norwich, NR13 6PZ, UK
ross(at)innershed(dot)com
http://www.innershed.com
0044 1603 735576
About InnerShed Ltd
InnerShed are a well established web and software development company based in Norwich, Norfolk, UK. As a second generation family company founded in 1998 - at the forefront of internet development - we have a wealth of knowledge and experience in complex system development and high end, high technology websites.