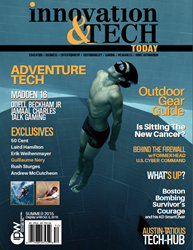 "We have what I consider the most diverse combination of medical leaders, education innovators, and star athletes in the history of our magazine," I&T Today Publisher Charles Warner said.
Denver, Colorado (PRWEB) August 11, 2015
The spirit of summer breaks free in the newest issue of Innovation & Tech Today, with an across-the-board look at the sports, adventure, and medical tech worlds that features some of the most identifiable figures in each area.
The issue is available in every Barnes & Noble in North America, airports, and select newsstands throughout North America, and top commercial and business centers throughout the world. I & T Today is also available on every major digital platform to include Apple Newsstand, Google Play, Nook, Fire, Magzter, Issuu and Zinio.
Under the direction of new managing editor Melissa Hirsch, I&T Today presents the latest trends and technology of the sports and adventure worlds — two prime activities of summer.
The I&T Today team was onsite at the Outdoor Retailer Show in Salt Lake City, Utah from August 5-8 to promote the release of the first ever AdventureTech section of the publication compiled by Kelsey Elgie Domier and presented by AspectSolar. Featured were inspirational athletes, trends and the latest tech to enhance the summer from companies such as Starboard, Decibullz, Kialoa Paddles, Flite By Nite, Outdoor Tech and Dockslocks.
The medical tech section focuses on new procedures and technologies revolving around advanced treatments of cardiovascular and spinal ailments, as well as cancer breakthroughs and other elements of digital health. Among the in-depth pieces is a story on the causes and solutions to sitting disease, considered by some experts as potentially harmful as smoking in the long term. Ergonomic furniture provided by retailers such as Relax the Back can provide relief for some symptoms of sitting disease.
I&T Today also delivers another wall-to-wall presentation of STEM education developments in conjunction with the USA Science and Engineering Festival; a look at the personality-oriented features of the newest video games; and a special feature on the extreme California drought, written by the Californian on the I&T team, founding editor Robert Yehling.
More than 20 interviews present the human faces behind the technology. They include big-wave surfing icon Laird Hamilton, blind mountaineer/educator Eric Weihenmayer. Kansas City Chiefs running back Jamaal Charles, Madden 16 cover star Odell Beckham, Jr. of the New York Giants,Boston Marathon bombing survivor Marc Fucarile and his KD Smart Chair, University of Louisville medical researchers Drs. Roberto Bolli and Aruni Bhatnagar, National Institutes of Health director Dr. Francis Collins, former U.S. Cybersecurity Command head Maj. Gen. Brett Williams, and Chris Columbus, director of the movie Pixels.
"We have what I consider the most diverse combination of thought leaders, innovators, and star athletes in the history of our magazine," I&T Today Publisher Charles Warner said. "We've always prided ourselves on the conversations we present. These men and women are the faces of their sports or medical fields, in many cases.
"This is a reminder that the newest technologies and applications are great, but it is the people behind those technologies that continue to change our world and society," Warner added. "You can build all the state-of-the-art technology in the world, but these innovators and leaders turn it into technology solutions we benefit from in our daily lives. It is the human element that really moves the soul with stories we bring the readers, especially in the case of Fucareli and his KD Smart Chair. It is a perfect example of the humanity behind the technology, and one of the reasons KD Smart Chair and I & T Today teamed up to donate a smart chair."
The summer issue of I&T Today continues with regular department features in security, communications, wearables, education, social media, and more. The ever expanding gaming section, quarterbacked by industry veteran and insider John Gaudiosi takes readers behind the scenes of many top titles including Madden 16.
Innovation & Tech Today is published by Innovative Properties Worldwide, with offices in Denver, CO and Clearwater, FL. Readers can find I&T Today on Facebook and Twitter and contributors and advertisers are always welcome to connect directly.
For more information, contact Charles Warner or Kelsey Elgie Domier at 720-708-4250, or write to info(at)goipw(dot)com.