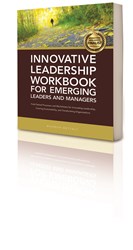 Leaders need solid skills to be prepared to meet the growing complexity of problems they are facing on a daily basis
Columbus Ohio (PRWEB) August 27, 2013
The eleven week program is a subset of a 41-week online program. Applying the methods and philosophy of the Innovative Leadership Workbook for Emerging Leaders and Managers, the full program provides a range of options for leaders to enhance their skills, and build their careers through weekly e-mail that includes videos, worksheets, and leadership development exercises. For an additional fee, participants have the option to participate in live webinars, as well as to select coaching to accompany the online development process. This model, plus coaching and webinars, provides a range of options for leaders to enhance their skills and build their careers at an accelerated pace by maximizing the time investment in the online program. There is no financial obligation at the completion of the 11 weeks unless you chose to sign up for the remainder of the program.
The on-line Innovative Leadership program is designed specifically for busy people, includes field-tested processes and worksheets for innovating leadership skills, building capacity to lead organizational transformation, and create sustainability. The program take participants on their own leadership journey through a series of development activities while providing insight into the thought processes of highly successful leaders whose unique challenges provide invaluable insight into how leaders develop and incorporate innovation both personally and professionally. This program is unique in that it takes leaders beyond concepts into self-evaluation and self-development.
The Innovative Leadership Program consists of eight modules including a six-step process for developing innovative leadership qualities through a combination of well-researched theory, a practical business case study, and corresponding tools and templates.
"In today's dynamic world, it is critical for organizations to create a leadership development pipeline that will enhance its ability to create distance and differentiation from the competition. Leaders need solid skills to be prepared to meet the growing complexity of problems they are facing on a daily basis. This workbook affords organizations the opportunity to develop leaders using a self-paced approach that can augment internal or external development programs." Michael Linton, Retired CEO Adecco, CEO Staffing Leadership
Metcalf & Associates, Inc., is a leadership development and management consulting firm that uses an integrative approach to help leaders and their organizations innovate how they lead and how they operate, helping them to thrive in a rapidly changing environment. CEO Maureen Metcalf is an acclaimed thought leader who has developed, tested, and implemented emerging models that dramatically improve leaders and contribute toward organizational success. Go to http://www.innovativeleadershipfieldbook.com to find out more about Metcalf & Associates and for information about all the workbooks in the series.