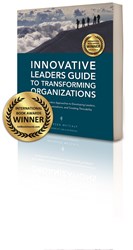 Big data projects are becoming more common and the ability to implement them effectively will provide competitive advantage
Columbus, Ohio (PRWEB) October 29, 2013
With an increasing focus on information analytics, the risks of lagging or failing projects are rising due to the complexity of the initiatives, and the lack of available and skilled resources. This paper evaluates "big data" project implementations through the lens of leadership and organization transformation using models introduced in the book, Innovative Leaders Guide to Transforming Organizations to identify key success factors driving successful projects and also identifying what is missing in failed projects.
The authors selected "big data" projects because of their complexity and the belief that successful implementation requires effective leadership, an awareness of and an alignment with culture, and a strong process-based approach to implementation. This paper focuses on innovative leadership and the critical role the data scientist plays in successful project implementation. Big data projects are becoming more common and the ability to implement them effectively will provide organizations with a competitive advantage. If they are done poorly, organizations lose valuable resources and, in many cases, lose credibility among their workforce, as well as within their markets. The stakes are high to "get it right," and these models provide insights, tools and a framework that increase your probability of success.
A primary reason for transformation failure is that leaders focus on the systems, rather than the larger context that includes themselves as leader and the organizational culture. Because innovative leadership influences by equally engaging the four dimensions or belief, action, culture, and systems, innovative leaders are uniquely qualified—and have a much higher success rate—to transform organizations.
During this epoch of increased complexity, failed change initiatives, and an accelerated need for change, it is critical for organizations to identify new models that address these challenges while maintaining efficient and effective operations. The Innovative Leaders Guide to Transforming Organizations provides models that increase your ability to successfully implement sustained change.
James Brenza is the Chief Data Officer for The Ohio State University, with over 20 years of technology and business expertise to transformational initiatives. James was educated at Akron University and The Ohio State University, and holds degrees in Information Technology, Finance and an MBA. He also holds certifications in Project Management and Six Sigma. He has applied his leadership and technical skills at global and Fortune 50 companies including IBM, GE, BMW and Kroger.
Metcalf & Associates, Inc., is a leadership development and management consulting firm that uses an integrative approach to help leaders and their organizations innovate how they lead and how they operate, helping them to thrive in a rapidly changing environment. CEO Maureen Metcalf is an acclaimed thought leader who has developed, tested, and implemented emerging models that dramatically improve leaders and contribute toward organizational success. Go to http://www.innovativeleadershipfieldbook.com to find out more about Metcalf & Associates and for information about all the workbooks in the series.