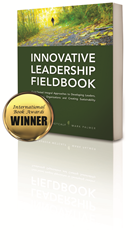 This workbook weaves inner and outer development together with very practical, time-proven processes, highlighted with great examples from colleagues in the global trenches
Columbus, Ohio (PRWEB) February 26, 2014
"Leadership needs innovation the way innovation demands leadership. By combining them, you improve your capacity to deliver results and your organization's capacity to affect change," says Metcalf. The Innovative Leadership Workbook for Global Leaders, designed specifically for busy leaders who work for or lead global companies, includes field-tested processes and worksheets for innovating how you lead, transforming your organization, and creating sustainability.
The Innovative Leadership Workbook for Global Leaders provides a six-step process for developing innovative leadership qualities through a combination of well-researched theory, corresponding tools and templates and a practical business case study completed by Mitchell as he looks at his next career step.
It lays out a process for transformation, and includes a discussion of organizational culture, an exploration of, and tools for, improving personal and professional leadership style, and an in-depth description of the skills and abilities required for global leaders along with comprehensive recommendations on building these skills.
The workbook takes readers on their own leadership journey through a series of development activities while providing insight into the thought processes of a highly successful international leader whose unique challenges provide invaluable insight into how a leader develops and incorporates innovation both personally and professionally. Ben Mitchell shares his experience working in international leadership roles.
According to Jim Ritchie-Dunham,PhD, President, Vibrancy Global, Adjunct Faculty at EGADE Business School (Mexico) and Harvard, MIM Thunderbird School of Global Management, MBA ESADE (Barcelona), "Our experience and training as global leaders tends to focus our attention outwards on the cultural contexts within which we do business. Wisdom shows the importance of the inward development of how we make sense of the complexities we face, and our resilience in facing turbulent environments. This workbook weaves inner and outer development together with very practical, time-proven processes, highlighted with great examples from colleagues in the global trenches."
Metcalf & Associates, Inc. uses an integrative approach to help leaders and their organizations innovate how they lead and how they operate, helping them to thrive in a rapidly changing environment. CEO Maureen Metcalf is an acclaimed thought leader who developed, tested and implemented emerging models that dramatically improve leaders and contribute toward organizational success. http://www.innovativeleadershipfieldbook.com