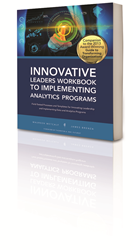 This workbook is an absolute must for every executive that wants to create an analytics program in his or her company
Columbus, Ohio (PRWEB) October 15, 2014
"Leading change starts with leadership. Yet, in many organizations, the process of leading change often omits the idea that transforming leaders is an integral part of the overall transformation process," says Metcalf. A common cause of transformation failure is the focus on the systems, rather than the larger context that includes leaders and the organizational culture. Taking into account the way organizations function holistically and interdependently greatly increases the odds of a successful implementation and minimizes failure and negative effects.
The Innovative Leaders Workbook for Implementing Analytics Programs, based on the 2013 International Book Award winning Innovative Leaders Guide to Transforming Organizations, provides a hands-on toolkit intended to help leaders guide "big data" and analytic transformations and how you can apply it to solve problems as well as improve sustainable results.
The workbook starts with an approach to leadership called innovative leadership that is a comprehensive model defining five key elements required to successfully transform organizations and implement programs. It walks the reader through the model and provides examples designed to illustrate how this innovative leadership supports implementation of analytics based transformation.
The workbook then focuses on the process of leading an analytic implementation that creates a strategic advantage for an enterprise. These chapters put innovative leadership to work by building on the discussion from chapter one and providing a change model and case study of how an innovative leader implement an analytics program. The workbook is designed to offer practical tools and steps to guide you through your own transformation. According to Michael Levin, Michael A. Levin, Ph.D., Associate Professor, Marketing Otterbein University, "This workbook is an absolute must for every executive that wants to create an analytics program in his or her company. By following the activities, guidelines, and suggestions, such a program is more likely to succeed, and generate a positive ROI sooner."
James and Maureen were interviewed by Doug Dangler for the NPR program about their work together on the topic of Analytics and the role of the data scientist.
Amid an accelerated need for change and a decade of increased complexity, increased volumes of data available for analysis, and failed change initiatives, it is critical for organizations to identify new models that address these challenges while maintaining efficient and effective operations. This workbook provides models and tools that increase your ability to successfully implement sustained change.
Metcalf & Associates uses an integrative approach to help leaders and their organizations innovate how they lead and how they operate, helping them to thrive in a rapidly changing environment. CEO Maureen Metcalf is an acclaimed thought leader who developed, tested and implemented emerging models that dramatically improve leaders and contribute toward organizational success. http://www.innovativeleadershipfieldbook.com