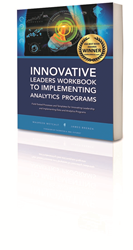 The combination of leadership building and leading analytics implementation make this a must-use tool when implementing an analytics program
Columbus, Ohio (PRWEB) November 18, 2014
"Leading change starts with leadership. Yet, in many organizations, the process of leading change often omits the idea that transforming leaders is an integral part of the overall transformation process," says Metcalf. A common cause of transformation failure is the focus on the systems, rather than the larger context that includes leaders and the organizational culture. Taking into account the way organizations function holistically and interdependently greatly increases the odds of a successful implementation and minimizes failure and negative effects.
The Innovative Leaders Workbook for Implementing Analytic Programs provides a hands-on toolkit intended to help leaders guide "big data" and analytic transformations and how to apply it to solve problems as well as improve sustainable results. According to Angelo Mazzocco, Chief Information Officer at COPCP, "This workbook offers leaders a pragmatic approach and the necessary tools to lead a successful analytics implementation. At the same time, readers and leaders are introduced to unique techniques to refine their leadership skills in order to effectively lead the changes they are making to their organizations. The combination of leadership building and leading analytics implementation make this a must-use tool when implementing an analytics program."
Beginning with an approach to leadership called innovative leadership, a comprehensive model defining five key elements required to successfully transform organizations and implement programs, the workbook walks the reader through the model and provides examples designed to illustrate how innovative leadership supports implementation of analytics-based transformation.
The workbook then focuses on the process of how to lead an analytic implementation that creates a strategic advantage for an enterprise. These chapters put innovative leadership to work by building on the discussion from chapter one and providing a change model and case study of how an innovative leader implements an analytics program. The workbook is designed to offer practical tools and steps to guide readers through their own transformation.
Brenza and Metcalf's work together on the topic of analytics and the role of the data scientist was featured on NPR's Craft the Show and highlights how big data and leadership intersect.
Amid an accelerated need for change and a decade of increased complexity, increased volumes of data available for analysis, and failed change initiatives, it is critical for organizations to identify new models that address these challenges while maintaining efficient and effective operations. This workbook provides models and tools that increase a leaders ability to successfully implement sustained change.
Metcalf & Associates uses an integrative approach to help leaders and their organizations innovate how they lead and how they operate, helping them to thrive in a rapidly changing environment. CEO Maureen Metcalf is an acclaimed thought leader who developed, tested and implemented emerging models that dramatically improve leaders and contribute toward organizational success. http://www.innovativeleadershipfieldbook.com