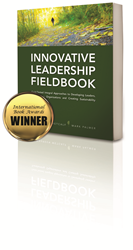 Leadership needs innovation the way innovation needs leadership
Columbus, Ohio (PRWEB) December 04, 2014
Authentic leaders are self-aware and understand who they are. This self-awareness gives them an edge in diagnosing organizational issues and understanding their impact, and how, as leaders, they play a part in creating positive outcomes.
"Leadership needs innovation the way innovation demands leadership. By combining them, you improve your capacity to deliver results and your organization's capacity to affect change," says Metcalf.
A primary reason for transformation failure is that leaders focus on the systems, rather than the larger context that includes themselves as leader and the organizational culture. They lack the necessary self-awareness required to successfully become part of the broader solution. Innovative leadership influences by engaging the four dimensions or belief, action, culture, and systems equally. Innovative leaders are uniquely qualified—and have a much higher success rate—transforming organizations.
This paper explores the process of becoming a more authentic leader by applying the Innovative Leadership model. It walks through the five elements of the innovative leadership model then explores how each element contributes to a leader's ability to become authentic. The model was designed to help leaders enhance their ability to take action to become more authentic and effective and provides action steps and examples.
During this decade of increased complexity and failed change initiatives, amid an accelerated need for change, it is critical for leaders to become more innovative in their approach to leadership and authenticity is a significant key to success.
Metcalf & Associates, Inc., is a leadership development and management consulting firm that uses an integrative approach to help leaders and their organizations innovate how they lead and how they operate, helping them to thrive in a rapidly changing environment. CEO Maureen Metcalf is an acclaimed thought leader who has developed, tested, and implemented emerging models that dramatically improve leaders and contribute toward organizational success. Go to http://www.innovativeleadershipfieldbook.com to find out more about Metcalf & Associates and for information about all the workbooks in the series.