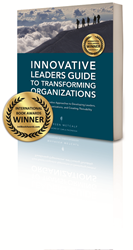 Leading change starts with leadership
Columbus, Ohio (PRWEB) June 24, 2015
Maureen Metcalf will be teaching a four hour pre–conference session: Leading Organizational Transformation – An Integral Approach. This workshop will explore the seven stage transformation model and how integral theory and developmental theory are woven into a practical leading transformation framework. This work is the foundation of the book Innovative Leadership Guide to Transforming Organizations, winner of the 2013 International Book Award for Best Business Reference book. It is also the text used in the Capital University MBA class focusing on organizational transformation. This model is designed to integrate integral and developmental theory into a framework that is accessible for busy leaders in a broad range of organizations.
"Leading change starts with leadership and yet, in many organizations, the process of leading change often omits the idea that transforming leaders is an integral part of the overall transformation process," says Metcalf. The workshop—focused on transforming organizations—starts with an approach to leadership called innovative leadership. This comprehensive model defines five key elements required to successfully transform organizations. Finally there is an interactive session focusing on the seven stage transformation process.
A common cause of transformation failure is that leaders focus on the systems, rather than the larger context that includes themselves as leader and the organizational culture. Because innovative leadership influences by equally engaging the four dimensions of belief, action, culture, and systems, innovative leaders are uniquely qualified—and have a much higher success rate—to transform organizations.
During this decade of increased complexity and failed change initiatives, and amid an accelerated need for change, it is critical that organizations address these challenges and identify new models while maintaining efficient and effective operations. This workshop provides models that increase your ability to successfully implement sustained change.
Metcalf & Associates, Inc., is a leadership development and management consulting firm that uses an integrative approach to help leaders and their organizations innovate how they lead and how they operate, helping them to thrive in a rapidly changing environment. CEO Maureen Metcalf is an acclaimed thought leader who has developed, tested, and implemented emerging models that dramatically improve leaders and contribute toward organizational success. Go to http://www.innovativeleadershipfieldbook.com to find out more about Metcalf & Associates and for information about all the workbooks in the series.