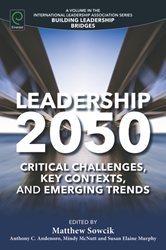 New contexts and conditions are poised to emerge that will create challenges beyond the abilities of most leaders or any single nation to manage
Columbus, Ohio (PRWEB) July 10, 2015
The world is changing dramatically and will continue to change over the next generation. Effective leadership has a significant impact on how these changes play out in our world. Leadership matters and it is a core responsibility of current and future leaders to become better educated about the challenges they face and also about how to become more effective at leading in a time of significant disruption. Today's leaders need the skills, connections and savvy to become top professionals in their field.
Innovative Leaders Driving Thriving Organizations features interviews of thought leaders and academics combined with executives in a range of industries to identify their biggest issues and discuss the innovative approaches they are using to turn turbulence into a business advantage. Metcalf and guests present concepts and tools that have been proven to improve organizational success and discussions about how listeners can apply them to drive success in their organizations.
The inaugural show will feature Susan Cannon, renowned futurist, leader, consultant, trainer university faculty member, author and business owner along with Mike Morrow-Fox who has held roles as an executive, consultant, author and university faculty member. The topic is Leadership 2050, including information from a chapter Cannon, Metcalf and Morrow-Fox co-authored in the upcoming International Leadership Association Book Leadership 2050: Critical Challenges, Key Contexts, and Emerging Trends(Emerald Group Publishing, 2015).
The inaugural will focus on future trends emerging over the next 35 years and a discussion of the leadership qualities required to effectively navigate this volume of change. The qualities of effective leadership can be paradoxical—requiring effective leaders to be passionate and unbiased, detailed and strategic, hard driving and sustainable, fact-focused and intuitive, self-confident and selfless—often at the same time. Such complexity is rarely found in leaders even under optimal conditions. As the world moves toward 2050, new contexts and conditions are poised to emerge that will create challenges beyond the abilities of most leaders or any single nation to manage. This powerful contextual shift—a time of great stress and constraint—has the potential to drive a new and more complex stage of human culture and consciousness to meet these challenges.
Listeners ultimately improve the impact they make as leaders or aspiring leader! The show will be broadcast every Tuesday at 11 AM Pacific Time on the VoiceAmerica Business Channel.
Metcalf & Associates, Inc., is a leadership development and management consulting firm that uses an integrative approach to help leaders and their organizations innovate how they lead and how they operate, helping them to thrive in a rapidly changing environment. CEO Maureen Metcalf is an acclaimed thought leader who has developed, tested, and implemented emerging models that dramatically improve leaders and contribute toward organizational success.