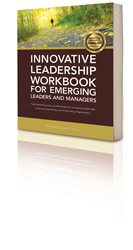 The Innovative Leadership Workbook for Emerging Leaders and Managers will help shape you into an excellent leader.
Columbus, Ohio (PRWEB) July 23, 2015
In a blog post on July 21, 2015, the Washington Post discussed Accenture will disband rankings and the once-a-year evaluation process starting in fiscal year 2016, which for Accenture begins this September. It will implement a more fluid system, in which employees receive timely feedback from their managers on an ongoing basis following assignments.
Accenture is one of a few elite firms moving in this direction. There is a strong research case to shift to a much more agile approach that focuses on timely and constructive feedback that lends itself to growth.
In a recent article by McKinsey & Company, global management consulting firm, on The Power of People Analytics discussed how it developed an approach to retention. Their analysis revealed that a lack of mentoring and coaching and of "affiliation" with people who have similar interests were actually top of list of key factors. Specifically, "flight risk" across the firm fell by 20 to 40 percent when coaching and mentoring were deemed satisfying.
Combining timely feedback with coaching and mentoring can create a powerful formula for developing highly skilled and engaged employees.
The blog series discusses how to design performance management systems, combining performance management with coaching and also mentoring.
Metcalf & Associates has created a series of workbooks and online development programs, all winning books awards such as International Book Award Finalist as Best Business Career Book. They are ideal for those who wish to increase their effectiveness as managers and leaders. They provide a strong foundation for mentoring and leadership development programs helping build mentors, coaches and leaders.
Written by Maureen Metcalf, founder and CEO of Metcalf & Associates, the leader development programs are available in paper copy or as a 10-month online format with accompanying videos and resources. They are accompanied by online assessment tools at no charge.
Designed specifically for busy people, the workbooks and online programs include field-tested processes and worksheets for innovating leadership, transforming an organization, and creating sustainability.
The workbooks and online programs guide participants through a six-step process with a series of development activities for developing innovative leadership qualities. The first two chapters of several workbooks are available for download. In addition, the first eleven weeks of the online program and innovative leadership assessment are available at no cost.
In her review of Innovative Leadership Workbook for Emerging Leaders and Managers, LeaderShape Board of Directors Chair and retired managing partner, Accenture, Carla Paonessa, says, "This workbook helps you ask key questions of yourself as you emerge into leadership roles. Be patient as you grow. Take notes and be grateful for both good and mediocre leaders. The good ones model the way. The bad ones remind us what not to do. This workbook will help shape you into an excellent leader."
Metcalf & Associates, Inc., is a leadership development and management consulting firm that uses an integrative approach to help leaders and their organizations innovate how they lead and how they operate, helping them to thrive in a rapidly changing environment. CEO Maureen Metcalf is an acclaimed thought leader who has developed, tested, and implemented emerging models that dramatically improve leaders and contribute toward organizational success.