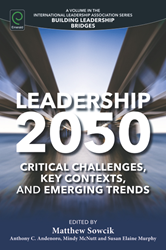 This book points ahead to the work to be done in every realm of our lives throughout the globalizing world.
Columbus, Ohio (PRWEB) August 26, 2015
As the world moves toward 2050, new contexts and conditions will emerge that create challenges that are beyond the abilities of most leaders or any single nation to manage. This contextual shift—a time of great stress and constraint—has the potential to drive a new, more complex stage of human culture and consciousness to meet these challenges. Leadership matters. It is a core responsibility of current and future leaders to become better educated about the challenges they face and how they can become more effective at leading in a time of significant disruption. Today's leaders need the skills, connections and savvy to impact how these changes play out in the world.
Leadership 2050 examines the issues, drivers and contexts that will most likely influence leaders and followers over the next thirty-five years. The book begins with a short section delving into strategic foresight and scenario planning. The next section examines the most pressing contexts and most wicked problems facing future leaders, ranging from population growth and urbanization, to climate change and resource competition. It explores how leaders can create common cause and meet these issues with an eye toward peace, sustainability and social justice. Specific emerging trends such as polyarchical structures and gamification are discussed. The book concludes by providing a unique way of viewing the critical challenges facing leaders and offering ways to develop the skill sets and capacities needed to work on solutions. Themes of understanding interconnectedness, complexity and true innovation pervade this final section.
According to Ron Heifetz, Founding Director, Center for Public Leadership and King Hussein bin Talal Senior Lecturer, Harvard Kennedy School, "This book points ahead to the work to be done in every realm of our lives throughout the globalizing world: families working to survive and thrive in challenging conditions, businesses in complex environments tackling tough trade-offs squaring values of profitability, long-term sustainability and social justice; and public organizations, nonprofits, and social entrepreneurs working to build collaborative capacity across boundaries to transform cultures of dependency into communities of engaged citizenship and distributed leadership."
Susan Cannon, renowned futurist, professor and business owner, Mike Morrow-Fox, an executive, consultant and university faculty member, and Maureen Metcalf, CEO of Metcalf & Associates, author and university lecturer, wrote the chapter, The Strategist Competency Model: The Future of Leadership Development, that explores specific trends and articulates a leadership competency model targeting the leadership mindset and characteristics that are required to navigate the many transitions between now and 2050.
Maureen Metcalf interviewed Cannon and Morrow-Fox on VoiceAmerica Business Radio to discuss their perspectives on the changes and leadership competency model. The show discussed expected trends over the next 35 years and the leadership qualities required to effectively navigate this volume of change.
Metcalf & Associates, Inc., is a leadership development and management consulting firm that uses an integrative approach to help leaders and their organizations innovate how they lead and how they operate, helping them thrive in a rapidly changing environment. CEO Maureen Metcalf is an acclaimed thought leader who has developed, tested and implemented emerging models that dramatically improve leaders and contribute to organizational success.