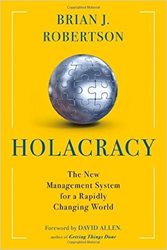 Holacracy is a new management model that transforms the static organizational structure into a dynamic one
Columbus, Ohio (PRWEB) September 22, 2015
As the world moves toward 2050, new contexts and conditions will emerge that create challenges that are beyond the abilities of most leaders or any single nation to manage. This contextual shift—a time of great stress and constraint—has the potential to drive a new, more complex stage of human culture and consciousness to meet these challenges. Leadership matters. Organizational operating systems matter. It is a core responsibility of current and future leaders to become better educated about the challenges they face and how they can become more effective at leading in a time of significant disruption. Today's leaders need the skills, connections and savvy to impact how these changes play out in the world.
Holacracy is a new management model that transforms the traditional static organizational structure into a dynamic one that provides real clarity into roles and accountabilities. It isn't the first, or only, model of self-organization. Companies like Valve, Spotify, and MorningStar have integrated principles of self-organization into their companies with strong results. It's no surprise that more agile, self-organized companies are more productive, and ultimately more profitable. To learn more about Holacracy, the Metcalf & Associates blog includes posts by Robertson and Gonzales-Black.
Brian Robertson is the Founder and CEO of Holacracy One. An experienced entrepreneur and organizational pioneer, he is also the author of Holacracy: The New Management System for a Rapidly Changing World. Alexis Gonzales-Black is the Co-Founder of Thoughtful Org Partners, a consultancy specializing in transitioning companies from traditional management hierarchies to adaptive organizational models, like Holacracy.
Maureen Metcalf interviewed Robertson and Gonzales-Black on VoiceAmerica Business Radio. The interview explores Holacracy and its implementation at Zappos. The show, Innovative Leaders Driving Thriving Organizations, aired on September 15 and is available for download.
Metcalf & Associates, Inc., is a leadership development and management consulting firm that uses an integrative approach to help leaders and their organizations innovate how they lead and how they operate, helping them thrive in a rapidly changing environment. CEO Maureen Metcalf is an acclaimed thought leader who has developed, tested and implemented emerging models that dramatically improve leaders and contribute to organizational success.