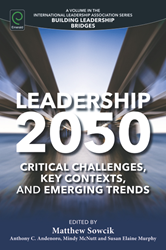 The qualities of leadership can be paradoxical
Columbus, Ohio (PRWEB) October 08, 2015
The seventeenth annual global conference focuses on leading across borders and generations. The author conference session takes place on Saturday October 17th, 9:00am-10:30am. Each author will talk about the role his or her chapter and ideas play in helping others understand Leadership in 2050. Following this, a facilitator will ask questions of the panel about the book, the different sections, and the future. Next, participants from the audience will have a chance to meet with authors to discuss specific chapters and ideas in breakout sessions.
"The qualities of effective leadership can be paradoxical – requiring effective leaders to be passionate, unbiased, detailed and strategic, hard driven and sustainable, fact-focused and intuitive, self-confident and selfless – all often at the same time. Such complexity is rarely found in leaders even under optimal conditions. As we move toward 2050, new contexts and conditions are poised to emerge that will create challenges beyond the abilities of most leaders or an single nation to manage. This powerful contextual shift – a time of great stress and constraint – has the potential to drive a new and more complex stage of human culture and consciousness to meet these challenges.", according to chapter twelve of Leadership 2050, written by Susan Cannon, Mike Morrow-Fox and Maureen Metcalf.
For people interested in learning more about the trends leaders and organizations will face between now and 2050, the July 14Voice America interview with the authors provides valuable information. They go into detail about trends and the role leaders will play in managing in the increasingly complex environment.
A second interview will air on October 13 on Voice America Business. The authors will discuss the strategist competency model that most accurately describes the mindset and behaviors leaders will need to have to navigate the complexity we will continue to face in the coming decades.
During times of accelerated change, it is critical for leaders to understand the likely changes and prepare to navigate them as effectively as possible. The conference presentation and Voice America Interviews provide models that increase leader's ability to successfully implement sustained change and create thriving organizations.
Metcalf & Associates, Inc., is a leadership development and management consulting firm that uses an integrative approach to help leaders and their organizations innovate how they lead and how they operate, helping them to thrive in a rapidly changing environment. CEO Maureen Metcalf is an acclaimed thought leader who has developed, tested, and implemented emerging models that dramatically improve leaders and contribute toward organizational success.