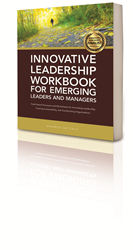 Guided by this book, you'll develop your understanding, testing, and learning about your own leadership.
Columbus, Ohio (PRWEB) November 19, 2015
People interested in learning more about the trends that leaders and organizations face, will find Metcalf's thought leadership interviews enlightening. She interviewed Christopher and Sheila Cook discussing: A New Era- Thought Leadership and Innovation. They share an overarching purpose — "one viable planet". They are focused on the release of latent capacities that equip humanity to cope with complexity and forge a world that works for all life. Their work inspires leaders to think about and seek to address the worlds largest problems.
To accompany the Voice America Interview series Metcalf conducts, we recommend the Innovative Leadership Workbook Series. Written by Maureen Metcalf, founder and CEO of Metcalf & Associates, these workbooks are companions to the winner of Best Business Reference Book in the 2012 International Book Awards and are ideal for those who wish to increase their effectiveness and growth both professionally and personally. The workbooks are designed specifically for busy people, and include field-tested processes and worksheets for innovating leadership, transforming an organization, and creating sustainability. The workbooks guide readers on their own leadership journey with a series of development activities and provide insight into the thought processes of highly successful leaders who used their unique challenges to develop and incorporate innovation.
The workbooks and online programs provide a six-step process for developing innovative leadership qualities through a combination of well-researched theory, two practical business case studies, and corresponding tools and templates. The first two chapters of each workbook are available for download. In addition, the first 11 weeks for the online program are delivered at no cost. The leader development programs are available in paper copy or as a 10-month online format with accompanying videos and resources.
In his review of Innovative Leadership Workbook for Emerging Leader and Managers, Jim Ritchie-Dunham, President of the Institute for Strategic Clarity and Adjunct Faculty, ITAM Business School, Harvard University said, "A seasoned mentor will guide you through the early stages of your development as a leader. For those of you who don't have that mentor, there's Innovative Leadership for Emerging Leaders and Managers. Guided by this book, you'll develop your understanding, testing, and learning about your own leadership."
Metcalf & Associates uses an integrative approach to help leaders and their organizations innovate how they lead and how they operate, helping them thrive in a rapidly changing environment. CEO Maureen Metcalf is an acclaimed thought leader who developed, tested and implemented emerging models that dramatically improve leaders and contribute to organizational success.