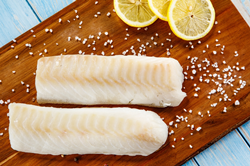 SUFFOLK, United Kingdom (PRWEB) March 23, 2019
A subsidiary of Ohlthaver & List Group, Hangana Seafood produces frozen hake fillets and formed hake products from fresh fish landed by its own fleet of trawlers based in Walvis Bay, Namibia.
Since inception, Hangana Seafood´s vision is to "sustainably deliver quality products through continuous innovation", which is paramount to success for any frozen seafood processor.
When the firm's existing freezing process wasn't producing seafood products that met its quality standards, Hangana Seafood looked to explore technological advancements in freezing, turning to IQF experts Starfrost to source the solution.
Factory Manager at Hangana Seafood, Pedro Sanchez, discusses working with Starfrost on its recent freezing project:
"We chose to work with Starfrost because of the superiority of their equipment as well as their ability to work with us, tailoring a system that was bespoke to our processes. We were looking improve the quality of our IQF products and increase the amount we produce, as our previous system bottlenecked production. The Starfrost freezing system has completely surpassed expectations, streamlining processes within our factory. It has enabled us able to deliver consistent, quality products that we can depend upon, which to us as a business is the most invaluable benefit we could gain from our processing equipment."
Pedro highlights the benefits of Hangana's new freezing system:
"The freezer maintains the natural shape and appearance of our IQF products, with no belt marking, providing us with high quality and yield, and enabling us to deliver a premium quality product to our customers. The flexible design of the system gives us room to grow and increase capacity, which is vital for any business looking to the future."
The Contact Freezer features a thin polyethylene film conveyor belt which passes over a refrigerated plate. This not only provides Hangana Seafood with one of the fastest freezing processes available with the lowest energy consumption, but also the most hygienic.
The Contact's high speed crust freezing technology handles the firm's skinless hake loin portion delicately enabling Hangana to achieve a significantly higher quality yield whilst reducing production time and increasing capacity.
For more information on crust freezing technology contact Starfrost
Email: contactus(at)starfrost.com or Telephone: +44 (0) 1502 562206