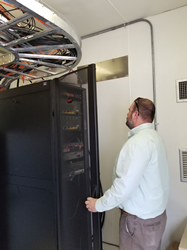 High-speed internet will help our businesses become more competitive in this internet-based economy.
PRINCE GEORGE, Va. (PRWEB) February 26, 2019
High speed fiber optic cable is now available in Prince George County, Virginia. PGEC Enterprises, LLC DBA "RURALBAND" is deploying fiber optic cable on top of its electric infrastructure, a revolutionary concept which has won five awards.
PGEC has installed a "smart grid" fiber network connecting the power substations across its service area. The company "RURALBAND" will connect the "last mile" of fiber optic cable from the smart grid to the individual homes and businesses in the county.
The Cooperative model supports lower installation costs which means lower costs to end users, who become members of the cooperative, which operates on a not-for-profit basis. Members of the cooperative include residences, small and large businesses, large load commercial and industrial accounts, farms, public schools and churches.
"A lack of broadband has been the number one complaint of Prince George County residents," said Becky McDonough, CEO of the Hopewell/Prince George Chamber of Commerce." Sixty-one percent of all businesses in Prince George County, VA are home-based businesses. High-speed internet will help our businesses become more competitive in this internet-based economy."
After completing a successful pilot program with 50 end-users in 2017, PGEC received a $1 million grant from the Prince George County Board of Supervisors to provide broadband service to 500 additional customers by July 1. 2021.
Since the implementation of the program, the utility has been recognized widely for the uniqueness and creativity of its smart-grid project, receiving the following awards:

National Association of Telecommunication Officers and Advisors 8/30/18 Philadelphia, PA "Project of the Year"
Virginia Association of Counties 8/14/18 "Achievement Award"
National Association of Counties 7/15/18 Nashville, "Achievement Award"
Virginia Economic Developers Association 4/13/18 Richmond, VA "Community Economic Development Award
Hopewell/Prince George Chamber of Commerce 2/22/18 Innovative Practices Award
In compiling its 2018 Blueprint for Broadband, the Federal Communications Commission found that almost 29 percent of rural Virginians do not have access to high speed internet. Only 2.8 percent of Virginians living in urban areas lack access.
"…. there is no way that a business can grow and there is no way you can attract new business to Virginia if we don't have universal access to broadband," Gov. Northam said. "We are working on that very hard. It's going to have to be a partnership between the business community and the public sector." In Virginia there are many organizations who are keeping the heat on access to high speed internet. The Center for Rural Virginia in partnership with PGEC Enterprises, LLC, and Prince George County's administration, hosted 150 state and local officials in Prince George County to share the success of the program with others.
About the Hopewell/Prince Chamber of Commerce:
Founded in 1920, the Hopewell/Prince George Chamber serves and advocates for manufacturers, businesses, professionals, recreational and hospitality facilities and historic attractions in Hopewell and Prince George, Virginia. The chamber operates from and manages a state-certified Visitor Center at 4100 Oaklawn Boulevard, Hopewell, and promotes the area to locals and the traveling public. Hopewell and Prince George County are 20 miles south of Richmond in the I-95-295 corridor. Residents and visitors alike can enjoy the area's 35 miles of historic riverfront on the Appomattox and James Rivers.
To learn more about Hopewell/Prince George and the Hopewell/Prince George Chamber, visit http://www.visithpg.com.