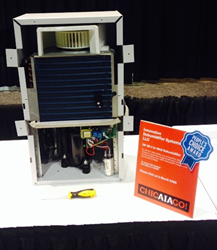 Ocean Isle Beach, NC (PRWEB) July 08, 2014
The Little Engine that could visited Chicago last week in the form of Innovative Dehumidifier's IW-25-1. Innovative Dehumidifier's in-wall dehumidifier came home with the top prize from the Product Marketplace, which showcased the newest and most innovative products on display at the 2014 AIA National Convention, illustrating that solutions to prevent mold growth in properties is on the fore front of design professionals' minds. The expo is the largest annual gathering of architects and design professionals in the United States bringing together approximately 18,000 professionals and more than 800 exhibitors.
Innovative Dehumidifier Systems was formed by Brian Smith and Tom Honeycutt in 2013, after more than two years of research and product development to solve humidity and occupant behavior challenges resulting in mold growth in multi-family housing. The result was the IW-25-1 in-wall dehumidifier. Increasing energy code requirements, along with high performance building design, have resulted in building envelopes that are built extremely "tight." When coupled with smaller apartments, over-sized mechanical cooling, and various occupant behavior preferences, the result can be a perfect storm for elevated relative humidity and visible mold growth.
With an affordable price point at roughly half the installed cost of whole-home or ducted systems it is easy to see why the IW-25-1 was the People's Choice. Although the IW-25-1 was designed primarily for multi-family applications, there has been a great deal of interest for additional applications such as vacation properties, single-family dwellings / basements, classrooms and medical facilities. There are several features which make it ideal for new construction, renovation / rehab properties, and existing properties displaying issues.
Innovative Dehumidifier's in-wall unit dehumidifier offers several unique features. The unit is installed between 16" OC studs & recessed in the wall. In addition, the dehumidifier drains directly to a drain source (like a HUB drain). The electrical source can be as simple as plugging into a standard 110/120 V outlet or the owner may choose to hardwire to a breaker. In either scenario, in the event of a power failure the IW25-1 automatically restarts to its most recent setting. When operating the IW25-1 is quiet. The sound levels for the dehumidifier remain below 47 decibels, comparable to that of a mini—refrigerator. Last but certainly not least, its unique grille cover with tamper-proof screws limiting access to the operational controls is a feature that many of their clients believe is the key to solving their issue, as it allows property owners to control the use and not the occupant.
"We are honored to receive this level of recognition from the AIA community. Our unit is affordable, quiet, out of the way and efficient. We believe it is an obvious choice over portables that are noisy and inefficient or ducted units which are too large and expensive - both of which allow the occupant to control the use. We believe our product is a solution for the property owners to prevent mold growth regardless of how an occupant may live." says Brian Smith, President. For more information about Innovative Dehumidifier Systems please visit http://www.innovativedehu.com.