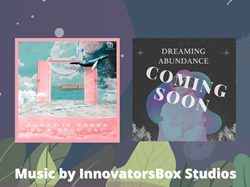 "Music is a powerful way to rethink well-being and focus."
WASHINGTON (PRWEB) September 22, 2021
InnovatorsBox Studios (IB Studios) will release two music album experiences to help innovators improve deep focus and deep sleep. Deep focus and deep sleep are essential for creativity and innovation, with multiple studies concluding that music can engage your brain in a way that trains it to better focus, relax, and make predictions. The Lo-fi focused album Today Is Gonna Be A Good Day released today on September 22, 2021, and celebrates the ordinary moment's in a day of innovation. The mindfulness focused album Dreaming Abundance coming out in October 2021 will celebrate how to find ease, meditate, and sleep better. Listen to IB Studios music here.
"Music is a powerful way to rethink well-being and focus," says Monica H. Kang, creativity workplace expert and Founder & CEO of InnovatorsBox® and InnovatorsBox Studios™. "We're so busy going through our routine without enough to pause, reflect, and reframe. I hope these music remind listeners to celebrate and treasure everyday moments with abundance and courage."
Today Is Gonna Be A Good Day, produced by IB Studios member and Berklee College of Music graduate Isaiah Weatherspoon, is the first of many lo-fi albums that IB Studios plan on producing. The twelve track album tells the creative journey of what happens from morning to evening as an innovator at work.
"This album is very special to me because I feel that I was able to mix and blend many different musical genres to create a serene but fun journey throughout this project," says Weatherspoon. "I really want the listener to feel the joy that I've experienced during my creative process of this record! I hope that this album can help brighten many people's days and make them feel a sense of internal peace and joy."
Dreaming Abundance, produced by IB Studios member Sam Lehmert and IB partner Alice Hu at Woo Woo Company, is the first of many creative collaboration projects IB Studios plan on producing to celebrate diverse storytelling. With Hu's expertise in mindfulness, sound healing, and Lehmert's craft to music and audio engineering, this album will provide a unique access to mindful music, meditation guide, and soothing sound bath music that would permit deep ease and sleep.
"I know that people want to feel more at ease and at peace. This album will help them feel more relaxed and perhaps accepting of the things they need to change in their lives," says Hu. " Sleep is a time when your body repairs itself. It's also when you process emotions and memories. You don't need a study to tell you the benefits and the pitfalls of not sleeping. I'm sure most people are aware already but it's so common to be tired or not get enough sleep. Let's not normalize this anymore."
You can stream Today Is Gonna Be A Good Day today and Dreaming Abundance in October. To browse our other music and creative production to boost innovation and creativity, visit Music By InnovatorsBox at https://music.innovatorsbox.com.
For information please reach us at info@innovatorsbox.com. If you're interested in music production services for your wellness program, business, or more, check out our music services here.