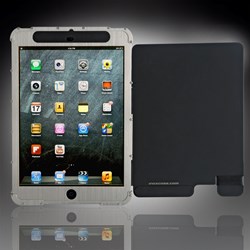 The iNoxCase integrates stainless steel and injection molding to create a work of art. This high-end design gives the user a first class experience right from the beginning. - Doug Flagg, iNoxCase's VP of Sales & Marketing
(PRWEB) November 04, 2013
Columbia River Knife & Tool® and iNoxCase® announced the launch of the iNox mini case aimed at the iPad® mini accessory market. With stainless steel construction and an ultra-thin profile, this distinctive industrial design is precision engineered to be the perfect accessory for your iPad mini.
The iNoxCase for iPad mini features a convenient door at the bottom that allows easy and secure input of your device. The open build frame offers maximum clearance for all ports and buttons with the innovative 360 degree lid opened or closed. The lid is also a Smart Cover® that turns off your iPad mini when closed but wakes it up again when you open it. The rubberized anti-slip strip on the back keeps your mini from sliding across smooth surfaces while in use.
IMINIS: Silver Model
IMINIBK: Matte Black Model
Specifications
Height: 8.13" (207 mm)
Width: 5.64" (143 mm)
Depth: 0.53" (14 mm)
Weight: 9.5 oz. (269 g) without iPad® mini
MSRP: $89.99
**iNoxCase also carries cases for the iPhone® 4/4S or 5/5S for those who prefer a distinctive accessory to complement their active lifestyle.
Disclaimer: While the iNoxCase provides style and protection for your iPad® mini, we can't guarantee the iPad won't break. Columbia River Knife & Tool is not liable for any damages that may occur while using the iNoxCase.
iPad®, iPhone® and Smart Cover® are trademarks of Apple, Inc. registered in the U.S. and other countries.
Warranty: All Columbia River Knife & Tool & iNoxCase products are protected by the Columbia River Knife & Tool Limited Lifetime Warranty.
Columbia River Knife & Tool is dedicated to producing knives, tools, and accessories of uncompromising quality and selling them at affordable prices. Columbia River Knife & Tool products are distributed through specialty retail, sporting goods and cutlery stores that offer customers knowledgeable service and are available from http://www.crkt.com and http://www.inoxcase.com or other reputable web site purveyors.