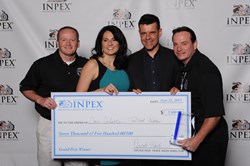 Pittsburgh, PA (PRWEB) October 25, 2013
InventHelp's Invention & New Product Exposition (INPEX) is excited to announce the dates for its 29th annual INPEX show, June 18-20, 2014. INPEX, America's Largest Invention Trade Show, features inventors from the United States as well as more than 20 countries. The 2014 show will once again be held at the David L. Lawrence Convention Center in downtown Pittsburgh.
InventHelp's INPEX is a unique trade show that brings inventors together with industry representatives in one convenient forum. The show also features private product searches, where inventors can present their ideas to large, well-known companies, like Elmers, SkyMall and Irwin Industrial Tools, who are looking for new products to add to their existing lines. The show will again present the INPEX Inventor's University, a series of seminars, presentations and panel discussions on topics like prototyping, patenting and manufacturing.
"We are very excited to have set the dates for our 29th annual show, and to once again host the show to the David L. Lawrence Convention Center," said Nicole Lininger, trade show director. "Our show continues to grow annually, and we look forward to expanding with more inventions and more corporations attending in 2014."
INPEX is a service of InventHelp, America's leading inventor service company. If you are an inventor who might be interested in exhibiting at INPEX, prime space is now available. Please visit our website here for up-to-date information or call 888-54-INPEX to speak to one of our INPEX account executives. Don't miss this unique opportunity to exhibit at America's largest invention trade show.
# # #