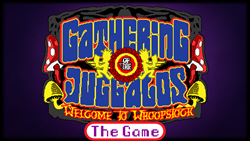 It's fun to see ICP and all of your favorite bands Sim'd out and pint size
LOS ANGELES (PRWEB) July 18, 2018
Today, TAS Systems and Psychopathic Records introduces ICP: The Gathering, the official Insane Clown Posse game. ICP fans from around the world get a chance to create their own Gathering Festival.
The annual Gathering of the Juggalos Festival kicks off today, along with a new mobile game.
Fans can see Violent J and Shaggy 2 Dope in pint sized form as they invade your mobile screen.
"It's fun to see ICP and all of your favorite bands Sim'd out and pint size. The Juggalo's behave like real people, each sim has it's own personality."
The festival and The Gathering mobile game kick off four exciting days of mayhem and fun in Legend Valley, Ohio.
ICP: The Gathering is now available world wide on iOS and Google Play