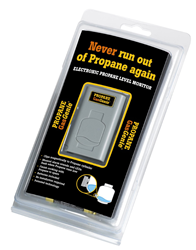 Once Peter Frank got in touch and explained the issue we realized that this could be a very interesting topic for our readers. -- Stacey Moore
Princeton, NJ (PRWEB) July 31, 2014
Everyone who grills using propane is familiar with the problem of running out of gas in the middle of cooking. It always seems to happen at the most inconvenient time. Consequently many people search for a solution and then purchase a pressure gauge that is designed specifically to solve this problem. Unfortunately the physics of liquefied gases such as propane means that the pressure gauge does not, and cannot, work as most people would expect. They think that the pressure will be proportional to the amount of gas remaining in the tank. And that is simply not true.
This is because propane is a liquefied gas and that means that while there is any liquid in the tank the pressure only relates to the temperature not the volume of liquid. This is a well known fact to anyone in the industry and to people with some knowledge of physics. But it is not understood by the general public who intuitively believe that the more gas there is in the tank the higher the pressure will be. After all when you pump up your car tire the pressure gets higher the more air you pump in. But air and propane are two entirely different gases.
Peter Frank from Propane GasGenie says, "As a physicist myself I was well aware of the problem of trying to use pressure to measure volume. That is why I went to the trouble to find a solution that really does work. The Propane GasGenie uses small temperature changes to detect a low gas condition and therefore does not rely on pressure."
So he made contact with Inside Tailgating, the popular magazine for tailgaters to describe the problem. He hoped that getting better understanding of the science would alert users before they become disappointed with their pressure gauge.
Stacey Moore, editor of the magazine says, "Once Peter Frank got in touch and explained the issue we realized that this could be a very interesting topic for our readers. So we will make independent investigations into how well or otherwise the pressure gauges work and will publish our findings in the next issue of the magazine."
About Creative Electronic Products Inc
Creative Electronic Products Inc are dedicated to sourcing innovative electronic products that solve common problems for everyday consumers. Their first product, the Propane GasGenie, has proved a big success with grilling enthusiasts all over the US. For more info on the Propane GasGenie, visit http://www.propanegasgenie.com. To play Hamburger Frisbee and grab your chance at winning a Propane GasGenie, visit http://www.propanegasgenie.com/fun-and-games/.