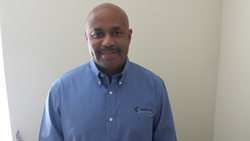 Wake Forest, NC (PRWEB) February 27, 2014
Stop-Painting.com continues to grow year after year and is always bringing new and innovative industrial safety solutions to the industry. They have valued customers that span the entire United States and make it a priority to serve each of them with the best customer service possible. With these goals in mind, Stop-Painting.com is excited to bring Al Barker on as a National Account Manager.
Al Barker, a resident of Cincinnati, Ohio, holds a degree in marketing from the University of Wisconsin-Milwaukee. In addition to his education, he has over twenty years of sales experience with multi-million dollar companies in which he exceeded sales goals and created strategic partnerships. He has been involved in sales, marketing, business development, training and staffing during his career. The majority of his experience in sales involved the industrial identification/labeling market, which makes him a great fit at Stop-Painting.com.
Although based in the Mideast, Al is also available nationally to service Stop-painting.com customers. He will also be working to bring new business and partnerships to Stop-Painting.com.
With the addition of Al, Stop-Painting.com is offering a no-charge expert floor-marking and sign audit for any facility that qualifies. The facility audit is conducted based on customer's marking concerns/issues and OSHA/ANSI regulations for creating a safe work environment for employees. These audits will begin with a tour around the entire facility concluding with advisement as to what floor signage is suggested for the facilities.
For more information concerning these free floor-marking audits, please call 919-569-6765.
Stop-Painting.com is apart of InSite Solutions, the manufacturer of Superior Mark tape.
InSite specializes in floor marking solutions that increase safety, organization, and efficiency in the workplace. They offer Superior Mark and a variety of other traffic control solutions for sale on their ecommerce website, http://stop-painting.com