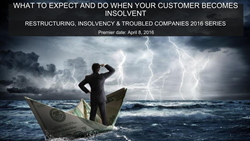 CHICAGO, IL (PRWEB) March 28, 2016
Companies fail all the time, for all sorts of reasons. Some companies become distressed, or even insolvent, because of mismanagement; others because of fraud; others for myriad other reasons- some intrinsic to the company and some extrinsic.
Regardless of the cause, failing or failed companies create a unique set of issues, risks, and even opportunities for all involved. This area of law and finance has become so specialized that no fewer than five (American Bankruptcy Institute; Association of Insolvency & Restructuring Advisors; Commercial Law League of America; National Association of Federal Equity Receivers; Turnaround Management Association) national organizations exist to help those who specialize in the field to stay up to date on the latest developments, strategies, and tactics in the area.
Join leading experts, from among the membership of these organizations, as they discuss- in plain English for the non-expert- the basics and the latest in Restructuring, Insolvency & Troubled Companies.
As with all Financial Poise™ webinars, each episode in the series is designed to be viewed independently of the other episodes, and listeners will enhance their knowledge of this area whether they attend one, some, or all of the programs.
Episode #3 of the "Restructuring, Insolvency & Troubled Companies 2016" series is "What to Expect and Do When Your Customer Becomes Insolvent."(Register Here) Moderator Jonathan Friedland of Sugar Felsenthal Grais & Hammer will be joined by panelists Hamid Rafatjoo of Venable, Michael Schwarzmann of Crowe Horwath and Jeff Pomerantz of Pachulski Stang Ziehl & Jones.
Sometimes it begins when a client, tenant, or customer starts to slow-pay, and accounts receivable start to accrue gradually. Other times the issue presents itself more suddenly. Either way, if a company is owed a great deal of money that looks like it may not be collected because a client/tenant/customer has filed bankruptcy, has commenced an assignment for the benefit of creditors, has been put into receivership, or is otherwise just plain insolvent, what can be done? What shouldn't be done? This webinar's topics include the pros and cons of putting a counterparty into involuntary bankruptcy; when and how to pursue third parties (like guarantors, directors, or officers) for the amount owed; risks related to preference attack; pros and cons of sitting on a "creditor's committee" in a Chapter 11; how to negotiate for "critical vendor" protection in Chapter 11; and practical guidance for continuing to provide goods or services to an insolvent counterparts.
ABOUT FINANCIAL POISE™:
Financial Poise™ provides unbiased news, continuing education, and intelligence to private business owners, executives, investors, and their trusted advisors. For more information contact Emily Goldin at egoldin(at)financialpoise(dot)com or 312-469-0135.