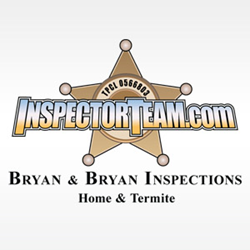 I wanted a new website to reflect our growth and the services we've added.
Pearland, Texas (PRWEB) March 04, 2014
Bryan & Bryan Inspections began 2014 with a brand-new website. The site features information about its property inspection services in Houston and the surrounding areas. It also allows customers to schedule appointments with inspectors online.
Bryan & Bryan Inspections achieved a major milestone this year.
"We just celebrated our 20th anniversary," said owner Greg Bryan. "I founded this company in 1994, and since then we've become one of the largest inspection companies in Houston. I wanted a new website to reflect our growth and the services we've added."
The updated website includes more detailed content about commercial building inspections and information about pest control.
It also highlights how company management is committed to making a difference locally and nationally.
"We're very involved in the community," said Bryan. "We donate a portion of all inspection fees to either New Life Children's Services or to the Wounded Warrior Project®.
"We've also been nominated to relaunch the Houston chapter of the Women's Council of Realtors®. As members of the planning committee, we look forward to kicking off the project this spring. We're honored to be able to invest in the community this way."
The redesigned website also features integrated social media and an on-site blog. This allows customers to access Bryan & Bryan's Facebook, Twitter, YouTube, and other social media pages with just one click. Staying up-to-date on events, promotional deals, and blog entries has never been easier. Better yet, the mobile-friendly format allows clients to see this information more intuitively from a laptop or a smartphone.
To create the new site, Bryan partnered with The Web Guys. Located in Carmel, Indiana, The Web Guys specialize in website design and Internet search marketing for companies nationwide.
About Bryan & Bryan Inspections
Bryan & Bryan specializes in building and home inspections. Dedicated to excellence, its professionals have completed over 21,000 evaluations in Houston, Katy, and the surrounding areas of Texas. Customers can call 281-484-8318 or visit http://www.InspectorTeam.com to make an appointment.