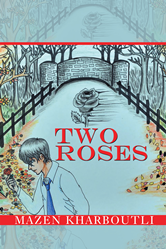 "Mazen Kharboutli presents a read-worthy narrative, which I found enjoyable. Intelligently written…I recommend this book, it was a journey through the human condition that was well worth taking a seat to." – Pacific Book Review
DEARBORN HEIGHTS, Mich. (PRWEB) April 15, 2019
Life experience has been the greatest teacher and motivational impetus for author Mazen Kharboutli's writing. In "Two Roses," his first work of fiction for adults, Kharboutli presents an entertaining and inspirational fictional narrative based on truth. Through the protagonist, Kharboutli demonstrates the power of the human heart to stumble, rise, release the past, forgive, heal and ultimately confront the power of self-awareness.
The word "love" has a multitude of definitions, but to protagonist Daniel Bouchard, the term was synonymous with loss. Early on, the boy experienced hardships that left him bewildered and lost in a world that he did not understand – a universe that robbed him of the people whom he most cherished. The burning questions in his young life became, "what is love?" and "do we exist merely to struggle?"
The answer to these existential inquiries found resolution in one person who, Daniel believed, was the love of his life. However, due to unknown circumstances, she vanished without a word of explanation. For over two decades, he searched for reasons and eventually through a series of astonishing coincidences, he came full circle and gained renewed perspective. Readers will journey into Daniel's world which will ultimately help them to encounter their own truth.
"The story is based on my life, the people I've encountered and the many lessons I've learned as a result," said Kharboutli. "I want readers to use my experiences and personal struggles as examples to serve as inspiration for those who have or currently are going through similar circumstances. If you don't see the light at the end of the tunnel, light up your side, and someone will notice."
"Two Roses" has already been receiving positive praises from reviewers:
"Mazen Kharboutli presents a read-worthy narrative, which I found enjoyable. Intelligently written…I recommend this book, it was a journey through the human condition that was well worth taking a seat to." – Pacific Book Review
"In a book full of drama, love, and life, Kharboutli paints a picture a lot of readers can relate to. This emotionally charged novel doesn't shy away from the stages of love and loss. It's one that will leave readers yearning for that happy ending for Daniel and holding onto their seats in anticipation for how things turn out for him and his family." – The US Review of Books
"Two Roses"
By Mazen Kharboutli
ISBN: 978-1-5462-9365-1 (sc); 978-1-5462-9364-4 (hc); 978-1-5462-9369-9 (e)
Available through Amazon, Barnes & Noble, and the AuthorHouse UK bookstore
About the author
Mazen Kharboutli is a civil engineer, prominent businessman and proud father of four. He juggles many tasks, loves family time and travel. Recently, he added "author" to his impressive achievements. He has successfully published two children's books – "My Rabbit's Tale" and "Friends Are Forever," both of which he co-wrote with Dianne A. Rhodes. He enjoys topics that address the human condition, relationships and personal growth. "Two Roses" is his first fictional narrative, infused with truth. Kharboutli currently resides in Dearborn Heights, Michigan.
For Interview and Review Copy Requests:
LAVIDGE – Phoenix
Lauren Dickerson
480-306-7117
ldickerson(at)lavidge.com