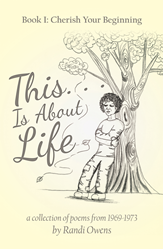 "Poetry proved to be a valuable lifeline when I believed there were no other viable alternatives for dealing with my feelings. Poetry can provide therapeutic relief from worries and life's excess stress." - Randi Owens
PALMER, Alaska (PRWEB) March 18, 2019
April is National Poetry Month and to celebrate the occasion poet Randi Owens has released her inspiring first book, "Cherish Your Beginning," of her forthcoming "This… Is About Life" series of poetry books. Owen's provides an intimate and emotional look at her life as told through the poetry she wrote in the early seventies over a period of five years beginning during the formative time she entered high school where she felt completely lost in life.
Having grown up in the foster care system with her siblings after the untimely deaths of her mother and father, Owens turned to writing poetry as an escape from reality which allowed her self-expression when she felt she had no voice. Through her poetry, Owens wants readers to connect with the poems that provide meaning to their particular life experiences to aid them in their own quests for better understanding of their lives and actions.
"Cherish Your Beginning" presents poetry that is filled with H-E-A-R-T which represents Hope, Emotion, Acceptance/Answers, Revelation and Thought. Each poem is unique and offers a different meaning for readers allowing them to relax in thought and reflect on their personal life experiences.
"Poetry proved to be a valuable lifeline when I believed there were no other viable alternatives for dealing with my feelings. Poetry can provide therapeutic relief from worries and life's excess stress," said Owens. "It invites readers to incorporate their thoughts and emotions into the words, creating the opportunity for temporary breaks from everyday life encounters."
The poetry featured in her subsequent books in the "This…Is About Life" series chronicles Owens coming into her own as an adult and finding and sharing the voice she once hid to help others in need as featured in "Book II: Fulfill Your Dreams" and "Book III: Determine Your Outcome." To learn more please visit, http://www.thisisaboutlife.com.
"This…Is About Life – Book I: Cherish Your Beginning"
By Randi Owens
ISBN: 978-1-4808-6105-3 (sc), 978-1-4808-6106-0 (hc), 978-1-4808-6107-7 (e)
Available through Amazon, Barnes & Noble and Archway Publishing
About the author
Author and poet Randi Owens is retired from her professional career which consisted of working as a Youth at Risk Program Manager, Chemical Dependency Counselor and Licensed Professional Counselor among others, which had allowed her to pursue her passion of offering care and service to individuals in need of therapeutic intervention. She now focuses her time on her other passion, that of writing and poetry. In addition to her "This…Is About Life" poetry series, she also has three children's books, a memoir and book about heart disease in the works. Owens received an Associate degree from Anchorage Community College, Bachelor of Arts in Psychology and Master of Science in Education degrees from Eastern Illinois University and a Certified Alcohol Dependency Certification Level I as a Chemical Dependency Counselor from the College of Great Falls and is part of the American Counseling Association. Upon graduation from high school, she joined the USAF in 1975 and remained on active duty for five years receiving an Honorable discharge upon completion of her commitment. Owens lives in Palmer, Alaska with her husband of over 40 years, her adult children and grandchildren.
Review Copies & Interview Requests:
LAVIDGE – Phoenix
Lauren Dickerson
480-998-2600
LDickerson@lavidge.com