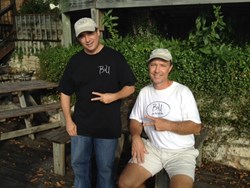 It's been a great year due to all the amazing people who have shared their stories with us.
Austin, TX (PRWEB) October 24, 2013
It was October of 2012 when Matt Evans and Richard "Bee" May turned on the switch to BGreaterThanU.com to begin the journey of helping save the world in their own individual ways. Their philosophy to help save the world as individuals was to inspire others to do the same.
The premise of "Be Greater Than You" (B>U) is that each person needs to try to be greater than themselves in positive ways each day to become greater individuals. By being greater persons, they become more charitable, empowered and helpful people to others and contributing to society.
If enough people embrace the philosophy then the world cumulatively becomes a greater place for all. The trick is to promote the philosophy to enough people to create a snowball effect of inspired B>U disciples to inspire others. That's their mission for year number two that begun on October 12th, 2012.
B>U's birthday is being celebrated by thousands across the world and specifically by 28 individuals who live the B>U philosophy through their lives and highlighted as B>U feature stories. The B>U stories run the gamut of a family setting up a lemonade stand to help fight cancer to the most recent featuring barefoot marathon runner, Jeff Stapleton, inspiring a healthy and shoe-less life.
"It's been a great year due to all the amazing people who have shared their stories with us," proclaims Evans. "It's the people who embody the B>U spirit that keep us motivated to take our own personal steps and continue this exciting evolution."
B>U continues to canvass inspirational stories while individuals seek out B>U for their stories to be told. Contacting owners May and Evans is as easy as a click of a button as they look forward to hearing anyone who embodies the B>U spirit.
B>U feature stories usually are shown donning a B>U Tee Shirt or flashing their sideways "peace" sign that simulates the ">" symbol.
About B>U:
BGreaterThanU.com offers lifestyle tips and inspirational stories about individuals being greater than themselves for a greater world. For more information, go to BGreaterThanU.com.